The Best Commercial Security Solutions - Guaranteed!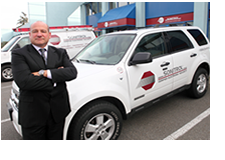 Sonitrol is one of the largest commercial security companies in North America, serving more than 180 cities with state-of-the-art electronic security solutions and trained professional monitors.
Our job is to keep our customers and their businesses safe - and to make the job easier for the responding authorities. We work to help police increase criminal apprehensions through the use of audio and video verification technologies.
This ability is increasingly important as communities adopt Verified Response policies. We fully support the implementation of verified-only police response. Our very low 3% false alarm rate and police partnership is why the police hurry up to our alarms.
We're not your average security system company. In fact, we're so confident in our technology and responsive service, that no one else in the industry can match our guarantees.
Sonitrol's verified audio and video surveillance technology gives us the ability to verify an alarm event in real time. The result: unrivaled credibility with local law enforcement - so they know when and how to respond to a Sonitrol alarm event.
We Comply With Municipal Verified Response Regulations
More and more municipalities across Western Canada are passing Verified Response regulations requiring verification that an intrusion is actually taking place before police will dispatch personnel to the site.
(This is a very different technology when compared to residential alarm companies such as Alarm Force, who have voice response alarms that want to talk to the criminal ... which professional criminals obviously ignore, and police departments react slowly to.)
Because our security systems are designed to discreetly watch and listen to the criminals while they are breaking in - we notify the police without notifying the criminals. This is our distinct advantage in the industry and we have an unmatched industry gaurantee and a service commitment to back it up for every customer.
We're proud to have the best commercial security solutions:
The best apprehension rate in the industry (over 175,000 apprehensions to date and counting!).
The fewest dispatches for false alarms (Less than 3% vs. a 98% false alarm rate from the rest of the alarm industry).
Integrated multiple security system components to make it easy for you to add to and customize your commercial security alarm system as you grow.
With our early detection, verification and 100% coverage, we make it easy for you to protect your facility.

Technologically superior security solutions for fire, video, access and intrusion.

Our experienced, professionally trained monitors help protect your investment by quickly dispatching local authorities when they are needed.

We've been in business for over 40 years with thousands of satisfied customers.
We have a program specifically tailored to meet the unique needs of your industry.
We offers strong local support, regionalized management teams (Vancouver, Edmonton and Calgary), and deep security knowledge and resources to get the job done right.
We are the third largest commercial security provider in North America - the verified leader in electronic security.
We provide our customers with leading edge technology and quality service backed by our unique guarantee and "Commitment to Service". It's something unverified conventional alarm companies simply cannot guarantee!

Read our customer TESTIMONIALS about Sonitrol
For a FREE COMMERCIAL SECURITY AUDIT, click here or call 1-866-766-4876