How Much Loss Can You Afford?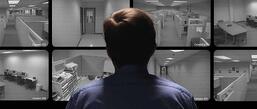 Our professionally trained staff are monitoring facilities 24 / 7, and we staff our Central Monitoring Station at a low customer account to operator ratio.
We provide the highest level of customer service. You can always talk directly to the operator monitoring your system. Our customers value knowing they are not just another number to us. Our operators become familiar with not only your buildings but also with you.
Together audio and video monitoring takes your security to a new level. Our audio systems give you ears, now SonaVision give you eyes. By monitoring the two systems our trained operators have all the tools they need to watch out for you.
Talk to one of our security consultants today and see what Sonitrol can do for you.
Fire Monitoring
The key to prevention of loss by fire is speed and verification. A Sonitrol Fire Detection System, combined with our ability to provide 24-hour monitoring by operators at our central station, gives your business the protection you need.
From our central station, Sonitrol has the ability to monitor smoke and heat detectors, sprinkler monitoring devices, and pull stations. Sonitrol systems meet UL and ULC listed, NFPA and ADA requirements.
Visions Electronics Testimonial - Thanking Sonitrol Monitoring Staff

"I want to thank the Surrey RCMP and your monitoring staff for the apprehension we had at our Surrey store early this morning! The immediate detection from Sonitrol and prompt response we received from the Police are obviously the reason there's one less scumbag on the prowl tonight.
Your monitoring staff received threatening audio of a criminal breaking into our store and immediately patched this audio through to the Surrey RCMP dispatch centre. The Police responded with multiple units in minutes as the break-in was still in progress; trapping the thief inside the store. The suspect was caught red handed with a large television in his arms! The Police recommended Sonitrol to us, and told us they hurry up to Sonitrol alarms because they know they are real.
Please share this letter with your monitoring staff, the RCMP and anyone who is contemplating installing your verified systems – the decision is truly a no-brainer!"
Regional Manager
Visions Electronics