Integrated Security Solutions Against Multiple Threats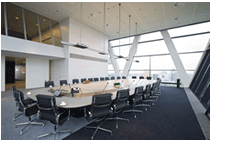 Whether you run a small business, a law firm, an accountant practice, or a general business operation, your business is vulnerable on a variety of fronts.
Burglars looking for cash, information or computer equipment aren't the only threat. Employee theft is a growing issue, and it costs Canadian businesses millions of dollars each year. In the United States alone, more than 5,000 cases of workplace violence are reported every day.

Growing businesses and companies with fewer than 100 employees are the most vulnerable to these types of losses, which can be catastrophic to the bottom line.
Sonitrol Western Canada has special office security solutions available for:
Medical / Dental Offices
Professional / Administrative Offices
We offer an integrated, modular suite of sophisticated security solutions that can help protect your office and your people. Plus, our state-of-the art technology — including verified audio intrusion detection and verified video surveillance — is backed by a team of highly trained professionals at a Sonitrol Central Monitoring Station.
Why Is Sonitrol Best For Offices?
Our Sonitrol Office Security Solution, doesn't just record break-ins and theft, we also immediately alert the police and they will respond to catch the intruders!
Our unique SonaVision verified audio and video solution, monitors the office and is activated by highly sensitive motion and heat controls to detect thieves and vandals.
We can give video access for your own supervision (WCB compliant), so you can watch job progress and day-to-day office work as it happens.
We also offer additional security using active audio and door contacts.
Joe Wilson explains how Sonitrol protects Offices