The Rx For Security - Sonitrol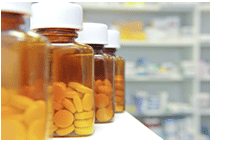 The Pharmaceutical Industry in Western Canada is growing rapidly and so are the associated security risks.
Today, stringent guidelines make security even more critical. Sonitrol offers solutions that help healthcare facilities comply with regulations and protect their property, assets, employees and patients.
Sonitrol Western Canada has special pharmaceutical and healthcare security solutions for the many types of facilities that exist, including places of high public traffic and inventories of drugs that are at constant risk of internal and external theft and burglary.
Sonitrol Western Canada Protects:
Hospitals, Clinics and Doctor Offices

Pharmaceutical Manufacturing & Distribution Facilities

Drug Stores and Pharmacies
Regulate who goes where and when

Sonitrol's access control solutions let you track movement throughout your facility and restrict access to sensitive areas like the pharmacy and patient records.
We'll replace your existing mechanical locks and keys with electronic locks, badges or cards, and readers. Our access control technology integrates with our audio intrusion alarm and/or video system to record the event that triggered the alarm. In the meantime, our trained professional operators listen in, verify the event, and dispatch police.

Sonitrol: The sound choice in security

Whether you're a drug store, doctor's office, a clinic or community hospital, or a health care organization with multiple facilities, Sonitrol is uniquely positioned to meet your healthcare and pharmaceutical security needs.
Why are Sonitrol Security Solutions the Best for Healthcare & Pharmaceutical Facilities?
Our Sonitrol Healthcare & Pharmaceutical Security Solution, doesn't just record break-ins and theft, we also immediately alert the police and they will respond to catch the intruders!
Our unique SonaVision verified video solution, monitors the perimeter and interior of the healthcare & pharmaceutical facility and is activated by highly sensitive motion and heat controls to detect thieves and vandals.
Our verified healthcare & pharmaceutical security solution is better than having expensive guards, who can sleep through the night or even leave the site, so we have developed programmable video guard tours.
We can give video access for your own supervision (WCB compliant), so you can record shipments and deliveries and watch job progress and day-to-day work.
Joe Wilson interviewed on Global News about Pharmacy security