Are Your Buildings Truly Secure?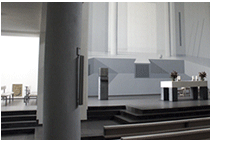 Faith-Based organizations are as much a target for criminals as any other segment of society.
And because faith based groups make it a priority to develop a welcoming and open environment, they are often viewed by criminals as easy targets, providing easy access and freedom of movement. The best way to safeguard against possible crime is to monitor access to your facility, and to protect it after-hours with the most comprehensive suite of faith-based organization security solutions on the market.
Sonitrol can help protect your people and your property

Your organization does tremendous good for the community you serve. A burglary, a fire, even a false accusation could seriously threaten your ability to carry out your mission.

Sonitrol provides integrated security solutions specifically tailored to the needs of faith-based and other non-profit organizations. Using our proprietary technology — verified audio and video detection — our trained professionals can actually hear an intrusion attempt as it occurs. This unique technology actually reduces false alarms and increases apprehension of thieves and vandals.

We offer a complete, integrated program to secure your members, staff, clergy and valuable assets such as computer equipment, cameras and cash. In addition to intrusion alarms, we offer technology to restrict unauthorized access, CCTV verified video camera monitoring of vulnerable areas such as childcare rooms, fire detection, and professional monitoring 24/7.
Is Your Church As Secure As It Could Be?
Criminals know that more than ever, church facilities contain valuable, high-tech items such as musical instruments and multimedia equipment. Many churches even have a retail presence with valuable merchandise, and criminals know that many of these high-value assets often reside in a concentrated area.
Sonitrol specializes in working with churches to offer a cost effective means of protecting your congregation without letting the security hardware become a distraction to your ministry. Sonitrol has discreet security technology that offers maximum protection with a minimal footprint.
The reality is that today, churches face the same security challenges as any other business, school, government or commercial facility — and the liabilities that go along with it. Is your church prepared? Contact a Sonitrol representative and let us show you solutions used by thousands of churches to keep a church safe.
Why Is Sonitrol the Best Security Solution for Religious & Faith-Based Organizations?
Our Sonitrol Religious & Faith-Based Security Solution, doesn't just record break-ins and theft, we also immediately alert the police and they will respond to catch the intruders!
Our unique SonaVision verified video solution, monitors the perimeter and interior of the building and is activated by highly sensitive audio, motion and heat controls to detect thieves and vandals.
Our verified

Religious & Faith-Based

security solution is better than having expensive guards, who can sleep through the night or even leave the site, so we have developed programmable video guard tours.
Joe Wilson explains how Sonitrol actually deters criminal activity