How Secure Is Your Facility?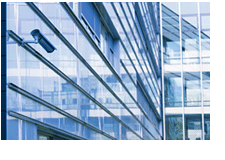 Even during business hours, multi-tenant office buildings can be susceptible to danger. Unauthorized individuals are often free to enter and roam unabated.
Do you know who has access to your building?

The best way to safeguard against possible crime is to carefully regulate access to your facility, and to protect it after-hours with the most comprehensive suite of security solutions on the market.

Sonitrol: The Right Solutions for Monitoring Building Access

Sonitrol's integrated line of security products means you can implement the solutions you need now, then easily expand as your needs change. Access Control, Fire Monitoring, Intrusion Alarm, Video Surveillance, 24/7 Monitoring — Sonitrol offers full protection guaranteed! Best of all, Sonitrol's security solutions are easy to use, allowing you to go online to remotely arm or disarm alarms, grant or withdraw access to individuals, and view live surveillance footage anytime, anywhere.
Property Management Expertise

Sonitrol works with property management firms across North America and in Western Canada, and has done so for over 50 years. We know there is no such thing as a "one size fits all" security plan. We'll work with you to tailor a security system to fit your unique needs.
Why Is Sonitrol Best for Property Management Security Solutions?
Our Sonitrol Property Management Security Solution, doesn't just record break-ins and theft, we also immediately alert the police and they will respond to catch the intruders!
Our unique SonaVision verified video solution, monitors the perimeter and interior of buildings and is activated by highly sensitive motion and heat controls to detect thieves and vandals.
Our verified Property Management security solution is better than having expensive guards, who can sleep through the night or even leave the site - in response to this we have developed programmable video guard tours.
Joe Wilson explains how Sonitrol helps property management companies