Safeguard Your Restaurant With A Full Menu Of Security Options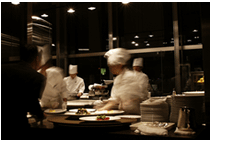 The competitor down the street isn't the only threat to your business.
During business hours, you're vulnerable to hold-ups and the growing trend in employee theft. After hours, your restaurant could be the target of burglars or vandals. Or a freezer could fail and cost you thousands of dollars.
Sonitrol can help protect your business against these and other threats. Based on our proprietary verified audio detection technology, a Sonitrol system delivers effective protection with low false alarms, lightening-quick police response, and the highest apprehension rate in the industry.
Solutions specific to the hospitality and restaurant industry
Sonitrol Western Canada has special restuarant and hospitality security solutions available depending on your specific needs:
National Franchise Restaurants
Clubs, Bars and Pubs
White Linen Restaurants
Family Restaurants

Protecting you from the twin perils of theft and vandalism. Sonitrol has worked with restaurants for more than four decades, protecting you from those who may take or destroy your property by designing comprehensive electronic security solutions.

We even protect your inventory from unanticipated damage, with security technology that allows you to monitor cooler and freezer temperatures 24/7, alerting you immediately of any rise in temperature.

Protection Without Limits

Sonitrol protects your restaurant when you're open and after everyone has gone home.

Our intrusion protection also includes panic buttons that can be strategically placed throughout the restaurant — at the register, in the manager's office, or in the walk-ins.

Sonitrol can monitor movement indoors and outdoors with CCTV verified video. This deters internal theft, damage or destruction of property, and discourages vandalism.

Losing a freezer full of food because of a malfunction can cost you thousands. Sonitrol's temperature monitoring devices, along with its smoke, heat and fire detectors, protect your business from loss or injury.
Why Is Sonitrol the Best Security Solution for Restaurants?
Our Sonitrol Restaurant Security Solution, doesn't just record employees or prevent break-ins, theft, if necessary we also immediately alert the police and they will respond to catch the intruders!
Our unique SonaVision verified video solution, monitors the perimeter and interior of the restaurant site and is activated by highly sensitive motion and heat controls to detect thieves and vandals.
We can give video access for your own supervision (WCB compliant), so you can record shipments and deliveries and watch job progress and day-to-day work.
Joe Wilson answers the question, "What is Sonitrol?"