See What You've Been Missing At Your Business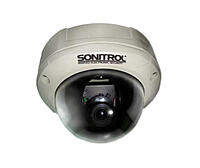 SonaVision is a unique push monitored video - that captures criminals!
If a criminal or vehicle is detected entering a secure area, push video technology immediately sends video through to our operators to view - then with this form of verification alarm, the operator will immediately dispatch the police.
We highly recommend you become aware of other conventional alarm companies claims about their monitored video.
Conventional monitored video is pull video technology, which is an alarm sent to operators and then the operator has to dial into to the video to look at a recorded video. This is a very time consuming process, when every second and minute counts. Any delay in seeing what actually caused the alarm can mean the thief gets away with the goods.
SonaVision verified push video technology is the best way to catch criminals
The transmission and review of the push video is achieved in only seconds and once the criminal activity is verified by our operators, a police dispatch immediately follows - and the police demand verification! Conventional monitored video takes many minutes to view recorded video and many minutes can transpire before any action is taken.
SonaVision be configured in many different ways to suite your facility and business - wired or wireless, so communication is by phone line, internet connection or mobile cellular.
SonaVision can also be powered by wired hydro or battery for remote locations.
We offer a SonaVision MySonitrol remote dial-in service to view live video for supervision of staff and all after hours activity.
Sonitrol's SonaVision video services make it possible to see what's going on at your facility — anytime. Using cameras installed at your facility, SonaVision gives you more control than ever. Monitoring stations that once were blind to what was happening can now see — before, during and after the alarm triggers — thanks to SonaVision's video clips. SonaVision helps apprehend criminals, save lives and reduce false alarms.
Working seamlessly with Verified Audio Detection, Keyless Access Control, and any other modular components of your Sonitrol video surveillance system, SonaVision heightens the security monitoring for your property and business.
How does it work?
SonaVision video surveillance services allows you to see what's going on when you're not there to watch.
SonaVision allows Sonitrol's operators to see what's happening anytime we receive an action signal. And your own supervisors can use SonaVision to remotely manage operations at your facility in Western Canada, from Vancouver to Alberta and communities in-between.
Alarm Verification via Remote Digital Video
Video images from different security cameras can be remotely viewed from Sonitrol's Central Station once an alarm signal is received and verified by our operators. Rapid response is then set in motion, once we quickly deliver video information necessary to verify the event. Remote Management via a dial-up or an Internet/Web-based service is also available depending upon the type of video-transmitter onsite.
SonaVision also gives you more control over your operations with the video cameras Sonitrol installs at your facility. Your company can also supervise and monitor all of your remote locations using any of your personal electronic devices, including smart phone, tablet, iPhone or iPad.
You can have 24-hour video monitoring access, even in remote locations, expanding your vision wherever you are:
Managers can connect to your business location and access live video activities directly from your site.
Receive archived video or snapshots via e-mail from Sonitrol's Central Monitoring Station.
SonaVision Video Verification & Video Access

SonaVision supports multiple applications that can help keep your property and personnel more secure, including:
Video verification provides a video clip of what happened before and after the alarm was triggered, allowing dispatchers to assess the event quickly and accurately.
Event notification via e-mail when your alarm system is armed or disarmed.
Scheduled virtual visits can be sent via e-mail to a PC or handheld PC - check out MySonitrol services.
Remote video access so you can evaluate employees and procedures from anywhere.
SonaVision video clips and snapshots come as e-mail attachments that you can easily open and play — or you can log in and view cameras at any time.