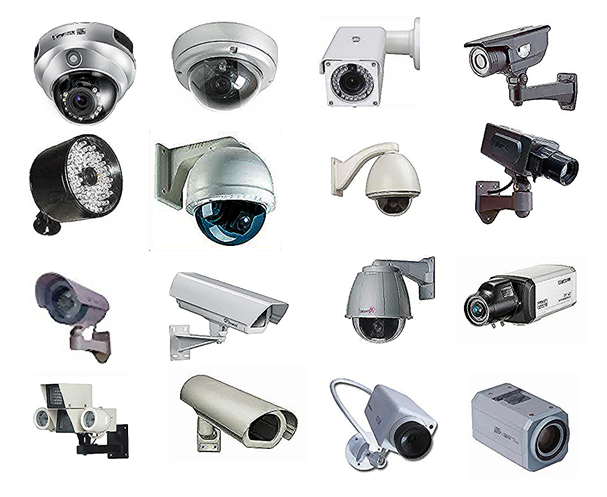 A CCTV security system is essential for any type of business or public organization. Therefore it's vital to select the right CCTV camera for the right location and application.
There are lots of CCTV cameras to choose from on the market today, with many different features and options, resulting in a confusing array of various types, styles, and configurations. But which is best for your intended business security application?


Here Are The 8 CCTV Camera Types You Should Know About:

1. Dome CCTV Camera


Dome CCTV Cameras are most commonly used for indoor security and surveillance applications. Dome cameras get their name from the dome-shaped housing in which they sit. These housings are designed to make the CCTV cameras unobtrusive… not covert or hidden. Typical applications are retail, where the camera is designed to be unobtrusive, but visible.
The "dome" shape makes it difficult to tell the direction that these cameras are facing, and thus are ideal for deterring criminals. The "bad guys" will know the facility is being watched and customers will feel at ease knowing the facility is being protected. Units that allow the camera to pan/tilt/zoom and spin quickly within the housing are often referred to as "speed domes."
Speed Dome CCTV cameras give the surveillance operator the ability to move the camera. There are cameras that have automated pan/tilt/zoom functionality where the camera is moving on a timed basis. These are used to cover a wide area with only one camera, or to avoid poor light conditions at certain times of day.


2. Bullet CCTV Camera


Bullet CCTV Cameras have a long, cylindrical, and tapered shape, similar to that of a "rifle bullet", often used in applications that require long distance viewing. The camera is not typically designed to have pan/tilt/zoom control but instead to capture images from a fixed location, pointing at a particular area.
A bullet CCTV camera is a wall-mount or ceiling-mounted unit that is typically designed for indoor use, but can also be used for some outdoor applications. Many bullet cameras can also be waterproof by being installed inside protective casings, which protect against dust, dirt, rain, hail and other harmful elements.


3. C-Mount CCTV Camera


C-mount CCTV cameras have detachable lenses to fit different applications. Standard CCTV camera lenses can only cover distances of between 35 and 40ft, therefore with C-mount CCTV cameras, it is possible to use special lenses, which can cover distances greater than 40ft.


4. Day/Night CCTV Camera
The day/night CCTV cameras have the distinct advantage of operating in both normal and poorly-lit environments. These cameras do not have Infrared illuminators because they can capture clear video images in varying light conditions and in the dark.
The camera is ideal for outdoor surveillance applications, where Infrared CCTV cameras cannot function optimally. These CCTV cameras are primarily used in outdoor applications and they can have a wide dynamic range to function in glare, direct sunlight, reflections and strong back light 24/7.


5. Infrared/Night Vision CCTV Camera


These night-vision CCTV cameras have the ability to see images in pitch black conditions using Infrared LEDs and are ideal in outside conditions where lighting is poor to zero.
6. Network/IP CCTV Camera
These cameras, both hardwired and wireless, transmit images over the Internet, often compressing the bandwidth so as not to overwhelm the web. IP cameras are easier to install than analog cameras because they do not require a separate cable run or power boost to send images over a longer distance.


7. Wireless CCTV Camera


Not all wireless cameras are IP-based. Some wireless cameras can use alternative modes of wireless transmission. But no matter what the transmission method, the primary benefit to these units is still the same: extreme flexibility in installation.
8. High-Definition HD CCTV Camera
Ultra high-definition cameras are often relegated to niche markets, such as casinos and banks. These give the operators the ability to zoom in with extreme clarity (to look at a poker player who might have something up their sleeve).
Beyond this list, there are many other types of CCTV cameras, but most of those are more related to the application in which the unit will be used vs. the type of camera.
Sonitrol Western Canada provides a range of CCTV cameras, which we select to do the right job in the right location. We offer full service CCTV design, installation, support, monitoring services, and integration with audio and access management security systems, including all key CCTV camera system types, components, accessories and concepts such as:
Sonitrol will install the right CCTV camera for your business (including IP, infrared, low-light, HD, verified, wireless, day/night, c-mount, bullet, dome, waterproof)

24/7 CCTV camera monitoring at our remote monitoring station

DVRs (digital video recorders)

CCTV camera towers and columns

CCTV telemetry systems

Deterrent CCTV systems

Covert CCTV systems

Motion detection systems

Integrated audio / CCTV systems

Video Analytics/Predictive software

CCTV camera lenses

CCTV monitors

CCTV multiplexors

CCTV illumination

CCTV switchers

Fibre optic CCTV transmission

Networked CCTV transmission (IP CCTV transmission)

Wireless CCTV camera systems

Software systems for CCTV camera control, CCTV management & CCTV diagnostics
Sonitrol Western Canada can provide CCTV video surveillance support for interior and exterior video surveillance solutions that range in size from centrally monitored, total corporate systems (fully-networked with dedicated fibre optic backbones) to PC-controlled, IP-based, stand-alone remote access verifiers.
Whether stand-alone or part of an integrated security system, CCTV cameras can be called upon to perform a number of functions for the organizations which use them, detection, deterrence, reassurance, evidence, access control and facility management. Utilizing our in-house security consultants, we have embraced verified security CCTV technologies, video transmission technology and network/IP communications as part of our core CCTV service; so ensuring we can meet customer requirements to provide CCTV system installation and CCTV system support for our high reliability, multi-functional, tailor-made CCTV solutions.
About Sonitrol Western Canada:
We're so confident in our technology and responsive service, that no one else in the industry can match our guarantee. Our unique verified audio and CCTV video business security solutions enable our operators to hear and see what is happening in your business before the criminals gain entry!! We verify the actual source of the alarm, and we get the police to attend the scene immediately. FOR A FREE SECURITY AUDIT, click here, or call 1-866-766-4876.
We are a security company with over 150 offices across North America. Sonitrol Western Canada services clients in:
Sonitrol Western Canada, with its Verified Electronic Security Systems, is committed to providing customers with the most comprehensive security protection. Cooperation in the elimination of false alarms is not only beneficial to the system's user, but results in better protection of the entire community by allowing law enforcement to use their resources as efficiently as possible.