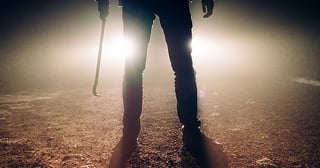 You've worked hard to get your company where it is today. It wouldn't be what it is without the hard work from all of your employees and your loyal clients. Therefore, when thinking of adopting the best security systems, why not keep all of your assets safe, and that includes your employees.
It's important to introduce a security plan to your business and team in order to keep everyone and everything safe from intruders. This is especially prudent when your workplace possesses valuable goods. Conventional security systems won't prevent intruders from breaking into your workplace, therefore, you should think of additional security measures as deterrents to break-ins.
Take a look below at 4 tips to keep your workplace and employees safe.
1. Security Lighting
Lighting gives the notion that someone could be watching. It's an absolute minimum security measure for businesses to take to secure their premises. Adequate lighting not only helps people recognize and avoid dangers, but also in many cases deters criminals by creating in them the fear of detection, identification, and apprehension. Intruders will be cautious to break into your premises where's there's good lighting, as they will be concerned that they will be easily detected and visible to an existing security system, or if someone else is on the premises. Security lighting is also crucial if you have employees or clients on the premises after dark. This will allow employees and clients to feel safer while walking through the parking lot to their cars.
2. Swipe Card Systems and Managed Access
Enabling a secure entrance to your workplace is another way to prevent intruders. Key-pad entry and swipe card systems allow employees the ability to feel safe when arriving and leaving work because only they have access. A managed access control system is one of the easiest, most cost-effective methods of increasing security. One of the most important benefits from using a managed access control system is that it gives you more control over your business, who's coming and going, and this equates to an immediate reduction in your security risks. When clients need access they can either be escorted by an employee or given a temporary passcode. Intruders will have to work harder to gain entry through one of these managed access systems.
3. Verified Security Systems
Your business wouldn't be properly secure without a Verified Security System. A Verified Security System means that if an alarm were to be triggered it could be verified by expert operators at monitoring headquarters, where they are able to detect if the alarm is false or not. Ensuring that your security system is verified allows Police to arrive on the scene a lot quicker than if you were using a non-verified, conventional security system.
A conventional CCTV system doesn't deter criminals because they know the CCTV simply records the events of the day so it can be played back later. Meanwhile, they have successfully committed the crime and got away. We recommend implementing a Verified Security System that is based on audio verification which results in faster Police response times and higher rates of apprehension. If you have a security problem, you'll want the Police there fast. Sonitrol is renowned for helping law enforcement identify true security events. This ability is increasingly important as more and more communities adopt Verified Video Surveillance Response Policies ... and our very low 3-percent false alarm rate, combined with the partnerships Sonitrol has built with local police over the years, is why the police respond to Sonitrol alarms more than others.
4. Sonitrol's SonaVision
Sonitrol's SonaVision is the ideal security system to have set up for your business. SonaVision is a monitored video surveillance system that is most useful once your workplace is unoccupied. SonaVision can be installed to watch specific areas of your business, such as hallways, entrances and in areas that need to be secure, perhaps rooms containing valuable stock and inventory.
Once SonaVision has been turned on, SonaVision sends video to be Verified when motion is detected.
SonaVision is monitored 24/7 by professional operators who are notified only when some activity or an attempted breach on your premises takes place. Our operators can then Verify if the break-in is legitimate or a false alarm. At this point, Sonitrol's expert operators are able to find out who or what triggered the alarm, then inform the Police of the of the verified intrusion. This keeps your false alarm rates extremely low and ensures a quick response time from the police - who can then apprehend the thief, often before they can even gain access to premises and your valuable assets.
A SonaVision Verified alarm triggers an operator to verify that a criminal is attempting a break-in and allow the Police to arrive on the scene a lot faster. Conventional alarm systems on the other hand, such as CCTV, is not verified and simply records the activity of your workplace that is able to be reviewed at a later date.
In the event that a criminal attempt to gain access, our Central Monitoring Station can detect a break-in immediately. We have an average 3.5 minute Police response time to the scene of the break-in, and over the years we've apprehended more than 172,000 criminals since we started counting in 1977.
By combining these 4 tips, and ensuring that your security system is verified, you'll be following the appropriate procedures in order to make sure that your business, employees, and clients are safe from intruders. Sonitrol can help by reviewing your security plan and ensuring that you have the best verified security system for your business.
About Sonitrol Western Canada
We're so confident in our technology and responsive service, that no one else in the industry can match our guarantee. Our unique verified audio and CCTV video business security solutions enable our operators to hear and see what is happening in your business before the criminals gain entry!! We verify the actual source of the alarm, and we get the police to attend the scene immediately. We are a security company with over 150 offices across North America serving clients across Western Canada in British Columbia, Alberta, Saskatchewan, Victoria, Vancouver, Edmonton, Calgary, Saskatoon.
Sonitrol Western Canada, with its Verified Electronic Security Systems, is committed to providing customers with the most comprehensive security protection. Cooperation in the elimination of false alarms is not only beneficial to the system's user but results in better protection of the entire community by allowing law enforcement to use their resources as efficiently as possible.