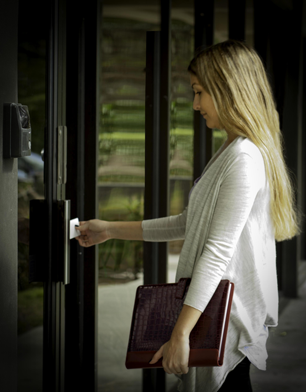 At Sonitrol Western Canada we're dedicated to the safety and security of all of our clients.
Preventing illness, injury, violence, and security threats in the workplace is the most important job there is. As a business owner or manager, a huge part of your job is maintaining the safety and security of your employees so they can stay productive and healthy in their work environment. Office security keeps everyone safe.
There are a few things you can do to ensure your workers are in a safe and secure environment. We've outlined the major points here to make it easier for you.
1. Make sure you are following provincial and federal regulations
Every workplace should make sure they are following their local regulations for safety and security in the workplace. This will most likely include providing adequate training, maintaining the premises, having emergency plans posted, first-aid kits & training, as well as having a joint health and safety committee in place for larger businesses. Check your local government websites for more information on conforming to these important regulations, they are put in place to keep people safe.
2. Have a health and safety plan in place, including an emergency procedure
Once you've made sure that your workplace in conforming to regulations, you can take it a step further by having security and safety plans for emergency situations. You can educate your workers about these plans and keep them in an accessible place. You will want to consider having a security plan in place for robbery, natural disasters, workplace violence, and terrorism.

3. Involve employees in safety planning
Involving employees in the planning process will give them a sense of responsibility when it comes to safety and security and promote a workplace culture of safety as well. Bring the topic up in workplace-wide meetings, and ask for feedback from employees on how you think you can make their environment safer and if they have any concerns. It's important to provide a way for your employees to report their concerns anonymously as well, if they are uncomfortable speaking about a situation directly.
4. Maintain premises & machinery
This goes back to regulations, but it is something that can be taken beyond what is simply required. Maintaining clean workspaces, daily checks of all machinery and safety and security equipment, and keeping clear access to exits and first-aid stations at all times are just a few examples.
5. Educate your employees about safety and seurity
Providing the minimum required training is great, but educating your employees on what to do when they face a security or safety threat is important to preventing injury or loss of property.
6. Foster a culture of safety & security
A great way to encourage a culture of safety and security is by offering a reward program. Reward employees for reporting threats to safety and security that could lead to loss to the company, or worker illness or injury. Get volunteers from each department to join your health and safety committee, and give certain security tasks to different workers to be responsible for.
7. Install verified security systems such as controlled access, panic buttons, fire detection, and verified CCTV & audio.
One of the best ways to protect your employees and your business is to install a Sonitrol Verified Security System.
Our security systems are scalable and customizable, so you know that your business, no matter how unique, will be protected in the case of a break-in, robbery, workplace violence, or other emergency. Our central monitoring staff can swiftly alert the Police to any visible emergency that is happening, allowing them to respond swiftly and effectively.
Our Verified Alarms are more than just conventional CCTV. We can custom design a security solution for you that will protect you against a variety of safety and security threats. We can include features such as fire detection, verified audio intrusion detection, panic buttons, 24/7 monitored CCTV, and more.
We also recommend controlling which employees have access to more sensitive areas of your business and when. You can do this with keyless entry that can be controlled / revoked remotely when needed.
We also offer silent panic buttons that can be strategically placed throughout your workplace, so that in the event of an emergency, trained staff can trigger the buttons and have our monitoring station alert the police.
Following these 7 steps will greatly help to increase your workplace safety and security, and there's no better time to do so than right now.
About Sonitrol Western Canada
We're so confident in our technology and responsive service, that no one else in the industry can match our guarantee. Our unique verified audio and CCTV video business security solutions enable our operators to hear and see what is happening in your business before the criminals gain entry!! We verify the actual source of the alarm, and we get the police to attend the scene immediately. We are a security company with over 150 offices across North America serving clients across Western Canada in British Columbia, Alberta, Saskatchewan, Victoria, Vancouver, Edmonton, Calgary, Saskatoon.
Sonitrol Western Canada, with its Verified Electronic Security Systems, is committed to providing customers with the most comprehensive security protection. Cooperation in the elimination of false alarms is not only beneficial to the system's user but results in better protection of the entire community by allowing law enforcement to use their resources as efficiently as possible.