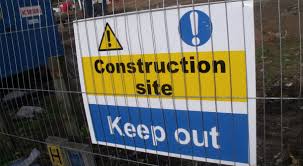 I want to conclude my series of blogs about construction theft by sharing some construction industry data and facts. It's hard to put an exact figure on the total cost of construction theft to construction companies and contractors in Canada, but according to a report from Zurich Canada, we can safely say that the amount is severely under reported in the area of $46 million per year in insurance claims.
Why isn't all construction site theft reported to the police or insurance companies? Firstly, many of the costs of construction theft are indirect, and these costs can hit the bottom line really hard. The consequences can be cash flow issues, missed project schedules, project penalties, idle work crews, and a bad reputation (maintaining a good reputation with developers can lead to new projects in the future). Theft of vital construction equipment, or expensive materials such as copper, can devastate a contractor or a construction company. Some hard hit construction companies have seen their insurance costs increase so much, they can no longer compete on projects, or they can't bid because they've lost insurance coverage and the ability to get a bond.
Construction site theft can range from anything that can be picked up and put in your pocket (tools and materials), to heavy equipment like back hoes and skid loaders. Next to back hoes and loaders, thieves go for compressors and generators. The Ontario Provincial Police estimated a cost of $15-$20 million worth of equipment stolen from construction sites in Ontario per year.
A recent independent survey of 100 construction companies, showed that most companies had at least 2 thefts per year, with costs per theft averaging from $25,900 for licensed vehicles to $1,600 for tools. The companies also reported that almost 60% of the stolen items were never recovered. One of the respondents answering a question about security measures they have used to protect their construction site said, "Do not have night security guard as we have found theft to increase."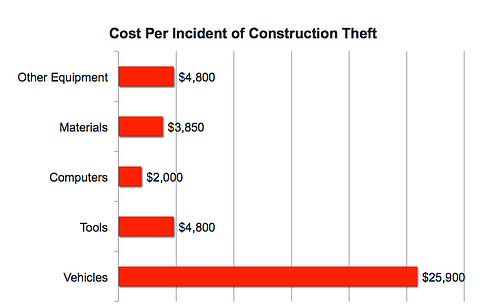 Worrying about construction site theft is enough to make anyone who is responsible for job site security, stay up at night. What's required is a security plan that takes into account your job site and your specific situation, backed with budgeted funds for an effective construction site security system.
Typically the people responsible for the job site site, construction site superintendents, project engineers, project supervisors, are building construction experts not security experts, and that's where Sonitrol can help. We have decades of experience designing custom construction site security systems that use the best technology available and are customized to each construction site. We become your partners in developing and implementing the right security solution.
What makes our security solution perfect for construction companies, is that we take into consideration factors like;
locale of job site (neighbourhoods, proximity of policing, crime rates)
type of construction project (residential, commercial, size)
perimeter fencing
lighting and power sources
systems in place for lock-ups and other access controls
site plans
equipment storage
Construction crime can be perpetrated by organized gangs who have a ready market for your equipment and materials, or can be small thefts that add up to reduced productivity when tools are missing and simple things can't get done.
A good security plan looks at the risk for both and puts in place a solution to reduce your company's liability. Once the plan is developed our recommendation will be to use the best security system on the market today - SonaVision, is an advanced, real-time, heat and motion video monitoring technology, that we developed and pioneered for construction sites over the past 10 years.
SonaVision is hard-wired or wireless, integrated security solution that uses advanced video and motion detection equipment to create an electronic perimeter around the construction site perimeter. It uses audio and infrared, so we listen and see in the dark. When the system is armed it will sense any heat and movement that happens around the construction compound, so when it spots the movement of a person jumping the fence in the middle of the night, we can instantly see it's something bad, it's a verified break-in, so we dispatch the police immediately.
SonaVision is vastly superior to standard, digital recorder-based, monitored video, and static CCTV cameras that simply record video, because SonaVision detection is immediate and because it is a verified alarm, police will respond to … quickly and without question. When the police arrive, and before the vandal can damage the property, or the thief steals a bobcat or copper wire, they are apprehended.
So when reviewing your construction site security options, not only is SonaVision the best technology solution available, with an unmatched industry guarantee, but we have a commitment to service that is second to none.
Be pro-active and talk to us about your next project, and take advantage of our free construction site security plan. We can help you manage your construction site security with the best technology, at the right price, backed up by our Sonitrol performance guarantees.
Finally, we're security consultants, not alarm salesman. We will not tell you what you want to hear, and we will never under protect your site simply to be cheaper to win the sale. If twelve cameras are required, that's what we will recommend. We want to be your long-term Security Partner providing consulting, installation and monitoring for life!
About Sonitrol Western Canada:
We're so confident in our technology and responsive service, that no one else in the industry can match our guarantee. Our unique verified audio and video business security solutions enable our operators to hear and see what is happening in your business before the criminals gain entry!! We verify the actual source of the alarm, and we get the police to attend the scene immediately. FOR A FREE SECURITY AUDIT, click here, or call 1-866-766-4876.