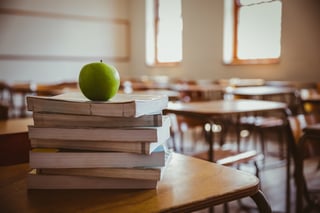 School violence and crime is a serious problem with wide reaching impact. It has the power to affect families, school staff, law enforcement and members of the public.
In addition to being on alert for any potential violence, schools and institutions must also protect themselves from break and enters, as well as vandalism.
Just recently, schools in Calgary have seen an increase in break-ins. While these break-ins are happening after hours, when nobody is inside, students and teachers are arriving to school to find property damaged and supplies missing, disruptive to the learning environment.
Sometimes breaking into the school is the sole purpose. In a nuisance break-in, youth will enter the building and sometimes cause little damage and often take nothing of value. Other times they will cause hundreds of thousands of dollars in damage by turning on water faucets, tripping fire sprinkler systems, damaging computer and science labs and staring fires.
These events close schools for months.
In other cases, schools are broken into for theft. Criminals with enter the school, steal computers, printers, audio-visual equipment, sports equipment, music instruments, cash and personal possessions. If they're pros they want to get in and get out fast, and generally cause minimal damage to the building.
Some break-ins may seem trivial, but even minor incidents can have negative effects. Attitudes are affected, it disrupts the learning environment, and can make students, parents and staff feel unsafe.
And, as schools become more technological, investing in high-quality audio/video equipment, computers, learning aids, and instruments, they are becoming a more attractive target for criminals.
Along with theft, schools get targeted for many other reasons:
Getting school cancelled
Making a social or political statement
Getting revenge on the school or a particular staff member or peer
Having a "good" time
As a means to express anger or frustration
The best way to protect your school, your property, and your students, is to invest in an integrated, high performance, security system.
For more than 50 years, Sonitrol has been providing comprehensive security systems for the educational community, becoming one of the largest providers of security systems to schools in North America.
More than 12,000 schools and colleges have implemented Sonitrol security - including access control, and monitored alarms.
Schools are unique with respect to their design, layout, access points, fencing, surrounding buildings and streets, and community location.
That's why each school needs a security audit and customized plan.
Our security experts will assess you school's vulnerabilities, and then provide a complete and integrated security system to protect your buildings, your students, and your staff.
Sonitrol security systems are discreet, eliminating distractions, but also offer superior protection.
Our Verified Audio/Video Surveillance provides:
Fully integrated protection against theft, vandalism and intrusion
Fast Police response
Lower false alarms
Consistently high rates of apprehension
By choosing Sonitrol, clients also benefit from our reputation. We're on the honour roll with educational institutes for providing: 24/7 monitoring, audio intrusion detection, managed access control, CCTV video surveillance, and local law enforcement authorities across North America trust us. When we call, they come, because we don't trigger false alarms. Our calls receive priority because they are reporting verified incidents, in real-time!
Through our verification process, we also significantly reduce the cost associated with guard response costs, as guards are not set to check on alarms. In many cases this reduced guard expense pays for a Sonitrol System.
We're proud to serve educational organizations in western Canada with high quality, effective security solutions that work.
Monitored security, which is widely regarded as the most effective solution, is surprisingly affordable. Whether you are evaluating security for a school board, or on behalf of an independent / private school, or other organization, the first step is to give us a call to discuss your security needs.
About Sonitrol Western Canada
We're so confident in our technology and responsive service, that no one else in the industry can match our guarantee. Our unique verified audio and CCTV video business security solutions enable our operators to hear and see what is happening in your business before the criminals gain entry!! We verify the actual source of the alarm, and we get the police to attend the scene immediately. We are a security company with over 150 offices across North America serving clients across Western Canada, including British Columbia, Alberta, Saskatchewan, Victoria, Vancouver, Edmonton, Calgary, Saskatoon.
Sonitrol Western Canada, with its Verified Electronic Security Systems, is committed to providing customers with the most comprehensive security protection. Cooperation in the elimination of false alarms is not only beneficial to the system's user but results in better protection of the entire community by allowing law enforcement to use their resources as efficiently as possible.