Having good CCTV security is an important issue for a lot of businesses, especially if you're running a restaurant, store or warehouse.


You have to be cautious for several reasons, customers can sometimes become thieves, gangs and thugs may be wondering around your community, or there could be irresponsible vandals who just enjoy creating trouble. Therefore you have to to take precautions to protect yourself and your business with a proper CCTV video surveillance system to ensure that things are running as they should.


For most of the time, you don't have to worry about your employees. Though it may not always be true, there will usually be a good honest sense of responsibility among employees. Employees are usually going to want to protect their jobs and make sure that the business is running as it should. But there are places and times, when employee surveillance is needed.


For these different circumstances a number of different CCTV surveillance cameras are available for people who want to ensure that their businesses are well protected (see our previous blog). All you need to do is find the right CCTV security camera system that fits your needs.


Get The Right CCTV Surveillance Equipment


In my last blog we spoke about getting the right CCTV camera installed for the right locations. You need to have all the prime locations covered so monitoring can be easy. If you have a building that has a lot of twists and turns in the corridors and rooms, you will end up spending a lot more money on different cameras to ensure that you cover all the angles. But of course, you do not have to set up surveillance in every single part of the building.


The first priority is to put CCTV cameras at just the entrances and exits. This means that at least you will have a digital record of every single person who came in and went out of the building, office or store. As an added safety feature, you will need to ensure that areas of inventory and valuables have the right cameras set up in case you have long and dark corridors where someone could hide.


Getting good quality cameras is another thing to consider. When you're looking at different CCTV camera models, make sure to choose one that will provide you with a clear image and last for a long time. Security is something that all companies should invest in, do not go cheap. After all, a blurred picture is of no value to either you or the police. You cannot catch a criminal if you cannot recognize him, can you?


The Law and CCTV Surveillance Cameras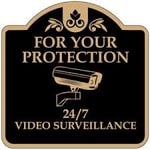 If you plan on putting up CCTV surveillance cameras then it's a good idea to warn your customers. This will make sure that everyone is aware that they are being watched and you don't have to worry about going against any privacy laws. Put up a 24 hour surveillance sign in a prominent place where everyone who comes in can read it and understand that they are being watched.
Surveillance in your place of business is there for the protection of your business, your employees and your customers. It is therefore a worthwhile security system to invest in.

About Sonitrol Western Canada:
We're so confident in our technology and responsive service, that no one else in the industry can match our guarantee. Our unique verified audio and CCTV video business security solutions enable our operators to hear and see what is happening in your business before the criminals gain entry!! We verify the actual source of the alarm, and we get the police to attend the scene immediately. FOR A FREE SECURITY AUDIT, click here, or call 1-866-766-4876.
We are a security company with over 150 offices across North America. Sonitrol Western Canada services clients in:
Sonitrol Western Canada, with its Verified Electronic Security Systems, is committed to providing customers with the most comprehensive security protection. Cooperation in the elimination of false alarms is not only beneficial to the system's user, but results in better protection of the entire community by allowing law enforcement to use their resources as efficiently as possible.