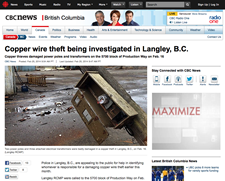 "The cost of copper theft isn't just picked-up by the industries or businesses targeted by thieves, copper theft actually costs taxpayers millions of dollars too."




Copper theft is impacting all of us. As I reported in my last blog (

How To Prevent Copper Theft)

, copper theft is even becoming an issue of national security. The media is reporting on copper theft almost weekly, and Police departments, such the City of Calgary now have an entire full-time Police unit dedicated to investigating metal theft. Businesses, governments and communities must now get serious about protecting their copper assets, and as taxpayers, we're all paying the price.
How Copper Theft Hits Municipal Taxpayers - What the City of Surrey is Doing About It


Cities across Canada have been plagued by copper theft, but closer to home, the City of Surrey recently announced they had spent $3.5 million over the last few years repairing street lights damaged by copper thieves. In response to this high cost, the City of Surrey has now decided to get rid of copper wires in street lighting and replace it with a less valuable material. On February 25, 2014 the CBC reported on Surrey's $9 million spend for this new project. Based on predictions by Surrey's engineering department, it will take 8 years to payback the costs for copper theft.
While this might be the right approach for the City of Surrey to take, it means copper thieves will be on the hunt for other sources of copper in the community. If you have any copper or other valuable materials on your construction site, or in a compound, you're a target!


A week or so before the announcement by the City of Surrey about their copper replacement project, the RCMP was asking for help in solving another copper theft crime in Langley, B.C.. The media coverage for that specific crime we have added below, along with some other recent news articles about copper theft in Canadian communities, coast-to-coast. This will show you the scale of the copper theft problem in Canada.
Copper Theft in the News Across Canada - Crimes and Coverage in the Last 6 Months
Feb 16, 2014 - Copper theft leaves astonishing amount of damage - On Sunday, February 16th Langley RCMP responded to the 5700 block of Production Way after a BC Hydro crew attended the location and found power poles and transformers had been damaged. The crew advised two power poles had been chopped down and three attached electrical transformers had been opened and their contents stolen along with the connecting cables. BC Hydro advised the responding officer that the damage and repair costs are believed to be in excess of $75,000." (Langley Today)

Feb 12, 2014 - Copper thieves hit art and buildings in Toronto parks - Incidents at Christie Pits and Art Eggleton Park show the market for stolen copper and bronze remains hot. (The Toronto Star) Copper theft "is an ongoing issue" for Hydro One, costing the utility an estimated $2 million across the province each year, according to spokeswoman Tiziana Baccega-Rosa.

Jan 21, 2014 - Police seek culprits in copper theft - (CTV Calgary News) Calgary police have released CCTV photos of a truck from the scene of a copper theft back in December and are hoping a re-enactment of the crime will bring new information forward.

Nov 30, 2013 - Copper theft a growing concern (The Star Phoenix) Copper theft is nothing new, but thanks to skyrocketing commodity prices and lax regulations in Saskatoon, the market in this city is growing. What we got is everyone saying, 'We need to go after the scrap dealers.' That doesn't work. It hasn't worked," Shaw said. He believes more focus should be directed toward things like security to prevent metal theft and harsher penalties for those who get caught. Pfeil agrees that the law hasn't caught up to "the gravity of the problem" in Saskatchewan. There is no police unit dedicated solely to solving metal theft crimes. Calgary, by contrast, has an entire unit - nicknamed "Metallica" - that deals with nothing else.

Nov 22, 2013 - Charlottetown police probing copper theft (CBC News) Police say someone broke into a trailer on the property overnight Wednesday and made off with 30 pieces of 12-foot long copper pipe.

Sep 27, 2013 - Nearly 60 charges laid after investigation into copper wire thefts in Calgary-area (Metro) Calgary police announced Friday that 44,000 pounds of stolen metal — roughly the weight of nine new model Ford F-150 trucks —has been sold to local salvage yards, netting the swindlers almost $100,000.
How Can Sonitrol Help?
Just imagine the cost savings to businesses and to taxpayers if the copper theft crime can be stopped while in progress. We believe in catching the criminals before they get away with the copper, and before they do any further damage to service utilites, or construction sites.
Sonitrol is the best security solution to catch copper thieves red-handed. If you install a SonaVision verified alarm system, the Police will respond to the crime in progress, instead of reviewing CCTV footage the next day, when all your copper is gone.
SonaVision is a security system that uses video and audio detection technology and is monitored at Sonitrol's central monitoring station. It's a simple and cost effective way to deter and catch criminals in the act – because each alarm is verified by a security specialist and reported to the local Police as a crime in progress.
SonaVision can be employed to detect break-ins prior to the vandalism of tearing copper out of the walls. Camera's can be located to watch HVAC units so that thieves can be detected before they damage the heating and cooling units. Remember, the cost to replace a damaged HVAC unit is greater than the value of the copper stolen.
Call us about SonaVision for your copper security requirements, for construction sites, locked compounds, warehouses, electrical supply stations, utilities, or any other business that you want to protect with an electronic verified security system that really works!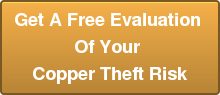 About Sonitrol Western Canada:
We're so confident in our technology and responsive service, that no one else in the industry can match our guarantee. Our unique verified audio and video business security solutions enable our operators to hear and see what is happening in your business before the criminals gain entry! We verify the actual source of the alarm, and we get the police to attend the scene immediately. Read the TESTIMONIALS about Sonitrol from some of our clients. For a FREE SECURITY AUDIT, click here, or call 1-866-766-4876