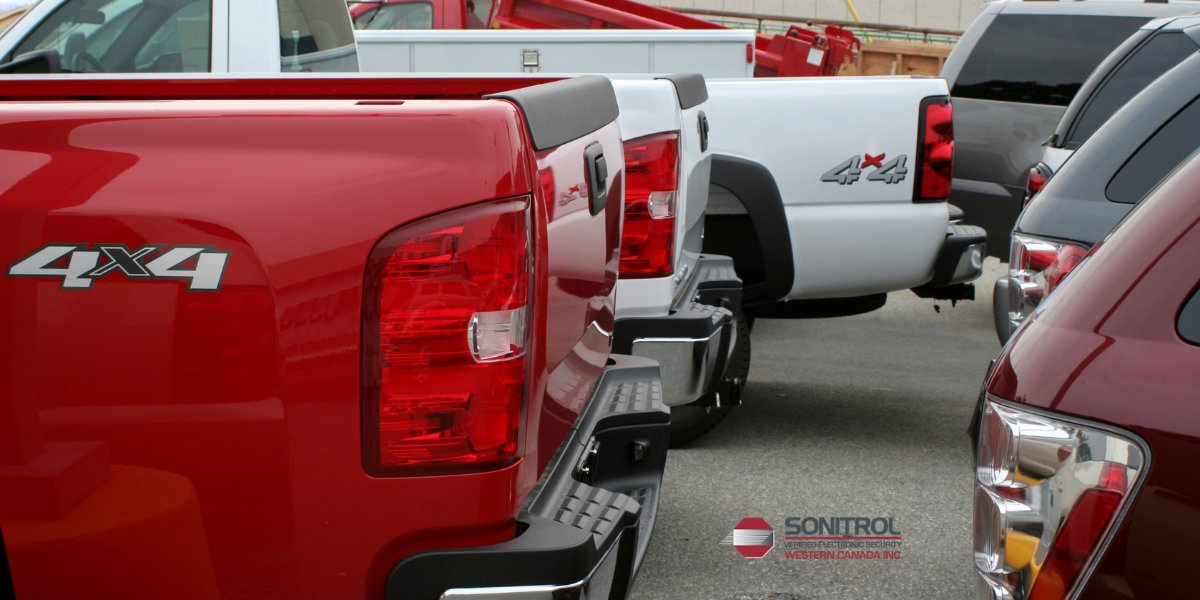 Electronic auto theft is on the rise across Canada, according to a new report from the Insurance Bureau of Canada (IBC), as more vehicles are equipped with technology like keyless entry remotes.
These new findings show just how important it is for automotive dealerships in Alberta (and Western Canada in general) to invest in a world-class dealership security solution.
It was found that the Ford F-series and Dodge Ram trucks are the most commonly stolen vehicles in the province. The bureau said oil and gas companies have used these trucks almost exclusively, which has brought a disproportionately high amount of them to Alberta.
The 2020 list of the top 10 stolen vehicles in Alberta includes:
2006 FORD F350 SD 4WD

2007 FORD F350 SD 4WD

2004 FORD F350 SD 4WD

2005 FORD F350 SD 4WD

2017 DODGE/RAM RAM 1500 4WD

2014 DODGE RAM 1500 4WD

2003 FORD F350 SD 4WD

2018 FORD F150 4WD

2013 FORD F150 4WD

2013 DODGE RAM 1500 4WD
"Thieves have many motives. This year's top 10 list confirms some key trends in auto theft that we are now seeing," Bryan Gast, National Director of Investigative Services at IBC. "Regardless of how a vehicle is stolen, auto theft is a serious threat to public safety and continues to cost all Canadians."
With that in mind, how does your Alberta-based dealership protect itself from crime? Sontriol Western Canada has listed just a few of the most important things you need to do when designing your dealership's security strategy:
Use a verified security solution
Dealerships are vulnerable to a range of criminal activities. This could involve break-and-enters where they take off with vehicle keys and your vehicle, but also theft through the stripping of valuable vehicle parts.
To keep both the inside of your facility secure as well as the vehicles on your lot, it's crucial your dealership invests in a verified security solution. Verified alarms don't just record break-ins like traditional CCTV, they use security experts in a 24/7 central monitoring station to verify whether an alarm is real and then immediately alert the police.
The fact that threats are verified and sent in real-time to the police is the reason why Sonitrol verified alarms have an average police response time of just 3.5 minutes across North America - compared to the 45 minutes or more of traditional CCTV alarms.
Don't let criminals tow your vehicles
To ensure criminals aren't able to tow your vehicles away, make sure they are always parked with their e-brakes on and the tires turned sharply in one direction to make it more difficult for thieves to tow them off your lot.
Use managed access control to keep valuable areas secure
Your dealership has highly valuable assets on site. Not only do you have brand-new and used vehicles on your premises, you also have car keys, expensive tools, speciality parts and other valuable assets stored throughout your facility.
It's important that you do not give potential criminals easy access to these high-value items. Installing managed access control, also known as keyless entry, will allow you to better protect your valuable assets in tightly-secured rooms. A keyless system will limit foot traffic to certain areas of your site, allow you strictly control who is allowed in which room and provide you with monitoring tools that tell you exactly who was in which room at what time.
Design an end-of-day closing routine
All dealerships should have an end-of-day closing routine that takes the proper steps to ensure your premises are secure for the evening. Create a guideline of steps for your employees that includes things such as putting away tools, locking up inventory, securing vehicle keys in a safe place and making sure vehicles are parked correctly.
A sound process that your employees follow each day will help your dealership to catch any security issues before a criminal can take advantage of them.
Looking for more information on how you can improve your dealership's security? Contact Sonitrol Western Canada today. Our team of highly-experienced and knowledgeable security experts would love to offer you a free custom security plan, at no charge and no obligation!