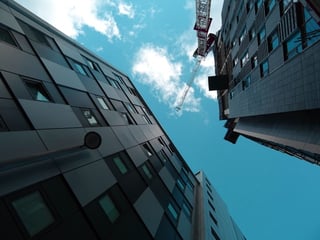 Over the past few months, there have been more and more stories about daredevils and miscreants seeking thrills atop skyscrapers and construction cranes.
Commonly known as rooftopping, this practice is both dangerous and a misuse of valuable emergency resources.
A worldwide phenomenon, Vancouver, Coquitlam and Calgary have been some of the more recent hot spots in Western Canada. Sonitrol has a solution.
CTV News: Teens Climb Construction Crane Next to RCMP Detachment
While many perpetrators of rooftopping and crane climbing see this as "art" or just another adventure to mark off their bucket list, the fact is that this practice is illegal. From mischief to trespassing to break and enter, rooftopping breaks numerous laws and puts people in danger, including the authorities that have to rescue stranded climbers, as was the case with 23-year-old Marisa Lazo in Toronto, ON.
One of the most common targets for rooftopping is construction sites. Construction sites and compounds are often left unattended at night, making them the perfect place to climb cranes and partly finished buildings without alerting authorities.
You will notice in this CTV news video that this construction site has a Cheap Sonitrol Copy Video system that did not even detect these vandals…. Be warry of copy cats who are cheaper but say they are as good as Sonitrol…. They are not.
While emergency personnel across Canada are calling for a stop to this dangerous pass-time, there are those that just won't listen, creating a need for construction companies to seek solutions that will protect their property, their projects and the safety of the community they are in.
And it isn't just rooftopping that construction sites need protection from.
Your site has valuable equipment to protect and schedules to meet - security should be top of mind.
Whether you're starting from the ground up, or renovating an existing building, your construction site is vulnerable to break-ins, vandalism, fire and other threats. Unprotected construction sites have a high risk of theft of uninstalled materials, equipment (such as copper cables), and installed materials, such as copper wire & pipes, which are often just ripped out of walls.
To best protect these sites, it is critical that an effective security solution be put in place.
That is where Sonitrol comes in.
Our Construction Site Security Solutions don't just record break-ins and thefts; they ensure that police are contacted immediately so that they can respond quickly to catch the intruders! And because of our reputation, we have an average response time of 3.5 minutes, across North America!
While the RCMP, in the video above, were lucky enough to catch the trespassers mid-climb, this is not always the case. Often, the authorities are not alerted until the climbers have made it to the top of the building or crane, making retrieval of the criminals more difficult and increasingly risky.
Our unique SonaVision verified video is the perfect solution.
SonaVision verified video monitors the perimeter and interior of the construction site and is activated by highly sensitive motion and heat controls to detect trespassers, thieves and vandals, before they are able to commit a crime.
Our verified construction site security solution is also more dependable than having expensive guards, who can sleep through the night or even leave the site. We have developed programmable video guard tours, which act as a virtual security guard.
We can also give you video access for your own supervision (WCB compliant). This will give you peace-of-mind by allowing you to record shipments and deliveries, as well as watch job progress and day-to-day work.
And, when you work with Sonitrol, you will benefit from our more than 50 years of experience in the construction industry and our tailored security programs.
To find out more about our construction site security solutions, contact us today!
About Sonitrol Western Canada
Sonitrol Western Canada, with its Verified Electronic Security Systems, is committed to providing customers with the most comprehensive security protection. Cooperation in the elimination of false alarms is not only beneficial to the system's user but results in better protection of the entire community by allowing law enforcement to use their resources as efficiently as possible.