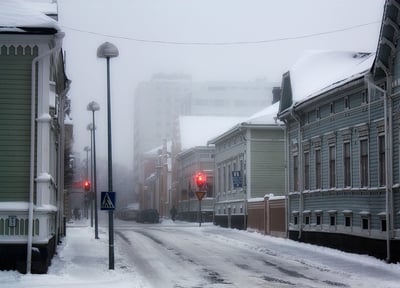 The weather is getting colder, perhaps it is even snowing where you are. With the start of the cold weather comes the holiday season. Unfortunately, some people are running around trying to make some extra cash or find that perfect gift, and some folks find that this is the hardest time of year, with heating bills increasing, buying gifts for the holidays. For example, numerous seasonal labourers constantly get let go due to the shut down of construction sites, farms, mines and oil fields with the extreme decrease in temperatures and traitorous weather at this time of year. It can get to the point where some people decide to make poor decisions that come with unfortunate consequences, and some people turn to theft and burglary.

Thefts tend to increase during the winter for a multitude of different reasons. Some say it's due to the decrease in temperature. Heating bills increase, warmer clothes are costly and electricity bills tend to increase during the winter as well. A lot of people have a hard time paying these extra fees, therefore, they result in an increase in the number of crimes such as burglary.
Crime rates may also change during the winter because it gets darker earlier. This gives thieves more of a window to commit a theft since the majority of thefts happen at night. This could mean that a theft could occur soon after your work days are finished. With the colder weather, pedestrians aren't out and active as much, leaving the premises of your business like a ghost town, depending on where your business is located.
Another thing to be aware of this winter are car thefts. We all know that we need to start our cars and let them warm up during the cold weather, a lot of people leave their cars unattended. Thieves know this, and are therefore on the prowl, looking for vehicles that are unattended to and see it as an easy steal. Try and stay with your vehicle or keep an eye on it.
There are a lot of things to consider in terms of security with the change of weather. Patterns and priorities change and we all need to be aware of them. In order to keep your business safe and secure from thieves this winter, you should invest in a superior security system, one that will protect the entire premises. Whether it be a yard or fenced compound, warehouse, dealership, office building, retail store, you need to ensure that your security system works and will be guaranteed to do its job.
Sonitrol Verified Security Systems are guaranteed to protect and secure the premises of your business, with over 174,838 criminals caught to date using this technology, and a industry leading false alarm rate of only 3%.
Having verified audio and video security means that our professional operators are able to see and hear what is happening in your business before the criminals are able to gain entry. At this point they are able to verify that a crime is about to be committed on your premises at which point they call the police. Since the police know that the alarm is verified they are able to arrive on the scene in less time than if the alarm wasn't verified (if the police show up at all with the high false alarm rates of conventional alarm systems).
We recommend you keep your business safe and secure this winter with a Sonitrol Verified Security System, you'll be happy you did. Be sure to take a look at our client testimonials for proof.
About Sonitrol Western Canada
We're so confident in our technology and responsive service, that no one else in the industry can match our guarantee. Our unique verified audio and CCTV video business security solutions enable our operators to hear and see what is happening in your business before the criminals gain entry!! We verify the actual source of the alarm, and we get the police to attend the scene immediately. We are a security company with over 150 offices across North America serving clients across Western Canada in British Columbia,Alberta, Saskatchewan, Victoria, Vancouver, Edmonton, Calgary, Saskatoon.
Sonitrol Western Canada, with its Verified Electronic Security Systems, is committed to providing customers with the most comprehensive security protection. Cooperation in the elimination of false alarms is not only beneficial to the system's user but results in better protection of the entire community by allowing law enforcement to use their resources as efficiently as possible.