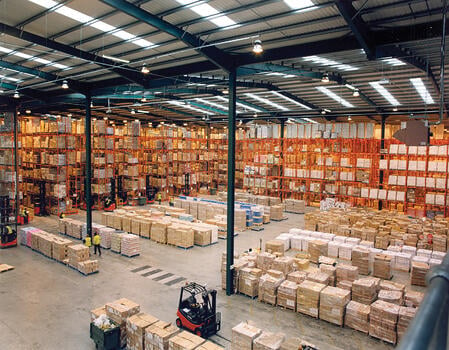 Warehouses and Distribution Centres pose a unique challenge for security due to their large size and complex layouts.
Conventional alarms in a warehouse environment consist of motion sensors that detect movement at popular entry points such as doors, windows and in the aisles of inventory and goods. Unfortunately, this type of conventional, unverified alarm system will not protect your warehouse or distribution centre from criminals. Why?
Here are the top 3 reasons why unverified motion detection systems don't work.

1. Conventional Motion Detectors Set Off False Alarms.
Motion sensor technology is based on detecting movement by using photosensors, radar detectors or infrared energy. This type of alarm leads to high false alarm rates as it cannot verify the cause of the motion. Balloons, banners, signs, animals, fluctuations in temperature, shrink wrap on pallets or even employees entering your business outside of their regular shift time, can cause the motion sensor to activate, thus causing a false alarm.
98% of burglar alarms where police are dispatched are false.
If your business has high false alarm rates, you will lose credibility with your local police force and may even be fined for each false alarm response. Eventually, you could be added to a "No Response" list, leaving your warehouse vulnerable to criminals.
Click here for information on false alarm policies in Western Canada.
Unlike conventional alarms using only motion sensors, Sonitrol is an ideal solution for large warehouse and distribution centre spaces. Our unique verified audio and video security solutions enable our operators to hear and see what is happening in your business before the criminals gain entry - we verify the actual source of the alarm, and we get the police to attend the scene immediately and relay real-time information to the responding officers. If it's a false alarm, we simply reset the system without bothering you or the police.
Because of this ability to verify alarms, Sonitrol has the highest apprehension rate and the lowest false alarm rate in the industry.
2. Location Vulnerabilities.
Motion detectors are typically placed in areas such as doors and windows, leaving the rest of your warehouse,or distribution centre vulnerable to break-ins through other areas such as ceilings and walls, which are becoming an increasingly popular entry point among would-be thieves. In addition, savvy criminals have learned how to bypass motion sensors by identifying blind spots, moving slowly, or by staying close to the ground.
Sonitrol's audio intrusion detection can cover a 5,000 square feet facility with floor to ceiling coverage, and wall-to-wall coverage. Our technically superior alarm system can be planted with an audio detection process that reduces false alarms and provides 100% coverage of your facility. This technology ensures you have no vulnerable entry points or blind spots, and prevents would-be thieves from bypassing motion sensors.
Compared to conventional motion sensors which only see 15' out with an end of site radius of 8' and are easily blocked by pallets, high bay racking etc., Sonitrol verified audio sensors hear 50' forward, 30' on each side and 15' behind. In addition, Sonitrol's audio sensors listen through high bay racking and around pallets, providing detection from roof or wall break-ins.
3. Delayed Police Response.
Most police jurisdictions have a verified response only policy, meaning that the police will not respond to conventional alarms.

Since conventional motion detection systems are not verified through audio or video technology, the business owner is often contacted by the alarm company for verification. This creates a delay in police response time, too often allowing the criminal to flee the scene before police arrive.

Conventional motion detection systems are also typically tripped from the inside, after the criminal has gained entry into your warehouse. This can contribute to delayed response as the criminal is already working at stealing your goods or damaging your facility before police are even notified of the break-in. Sonitrol alarms will catch them as they are attempting to enter the building.


Sonitrol's central monitoring station verifies the alarm for you. Once the alarm is verified, police are dispatched immediately. To date, Sonitrol has more than 171,000 criminal apprehensions!

Learn more about our Warehouse and Distribution Centre security solutions or contact us today for a free Security Audit:
About Sonitrol Western Canada
We're so confident in our technology and responsive service, that no one else in the industry can match our guarantee. Our unique verified audio and CCTV video business security solutions enable our operators to hear and see what is happening in your business before the criminals gain entry!! We verify the actual source of the alarm, and we get the police to attend the scene immediately. FOR A FREE SECURITY AUDIT, click here, or call 1-866-766-4876 - We are a security company with over 150 offices across North America serving clients across Western Canada in British Columbia, Alberta, Saskatchewan, Victoria, Vancouver, Edmonton, Calgary, Saskatoon.

Sonitrol Western Canada, with its Verified Electronic Security Systems, is committed to providing customers with the most comprehensive security protection. Cooperation in the elimination of false alarms is not only beneficial to the system's user, but results in better protection of the entire community by allowing law enforcement to use their resources as efficiently as possible.