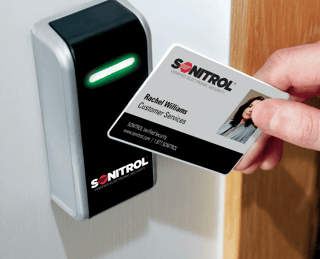 Implementing managed access security to a building, office, warehouse or storage space, is an essential component of a good quality security system.
Managed access determines who enters the secure area and how the access is controlled. A typical access control system can range from something simple, such a key fob, or a plastic card, to a larger and more sophisticated security solution using fingerprint biometrics, or iris scans.
Controlled access is most efficient when it's introduced as part of a multi-layered security defense. Managed access control can be integrated with other core aspects of your security system to create a seamless solution to protect your staff, buildings, and assets while helping you save time, reduce administration overheads and react more quickly to required changes.
Not only can managed access control systems track and restrict who goes where and when these systems also only allow authorized users to enter your facility or designated areas at certain times within your facility.
According to stats about the U.S. workplace, a staggering 71,095 dishonest employees were apprehended in their workplace in 2012, and that figure has most likely risen since then. Employee theft, vandalism, and workplace violence of any kind, is totally unacceptable and you as an employer, have to do something to prevent it and keep a safe and secure workplace.
10 ways a managed access control system can benefit your business
Track and limit entry to buildings

Protect valuable information, data, cash, valuables, and stock

No more lost keys, or the expense of re-keying locks when an employee leaves

If an employee no longer works at your facility, their card or fob is easily deactivated

Provides a safer work environment (limiting potential workplace violence)

Employees are less likely to set off false alarms

Automatically regulating access reduces the need for onsite security personnel

Access control decreases your liability and risk

Reports on who goes, or attempts to go, in your facility, and when

Helps reduce the possibility of internal and external threats
Programmed access for multiple applications
Here at Sonitrol Western Canada, we can offer a fully integrated security system, so access doors can be programmed for multiple applications. For example, doors can be opened for certain shifts. If our access system is armed, the doors will not unlock. This means if employees do not show up for work, the doors will not unlock until the security system is properly disarmed. If employees leave early and arm the security system, the doors will lock.
We can also manage access for different employees, who may have different access levels. Employees who are authorized to open the facility will be allowed access and be able to disarm the security system. Employees who are not authorized to open the facility will not be allowed access to the facility when the security system is armed.
With a phone call to our central monitoring station, you can make changes to the access system at any time. You can add employees, delete employees, change access levels and door locking/unlocking combinations for different shifts.
We can manage and monitor your system 24 hours a day from our Monitoring Centre. And we will keep a record of cardholders and generate entry and exit reports for you. If you wish, you can view time, attendance and scheduling reports; disarm a user's access card or assign multiple access levels; program scheduled door locks/unlocks; and perform other management functions at our password-protected, secure user website.
About Sonitrol Western Canada
We're so confident in our technology and responsive service, that no one else in the industry can match our guarantee. Our unique verified audio and CCTV video business security solutions enable our operators to hear and see what is happening in your business before the criminals gain entry!! We verify the actual source of the alarm, and we get the police to attend the scene immediately. We are a security company with over 150 offices across North America serving clients across Western Canada.
Sonitrol Western Canada, with its Verified Electronic Security Systems, is committed to providing customers with the most comprehensive security protection. Cooperation in the elimination of false alarms is not only beneficial to the system's user but results in better protection of the entire community by allowing law enforcement to use their resources as efficiently as possible.