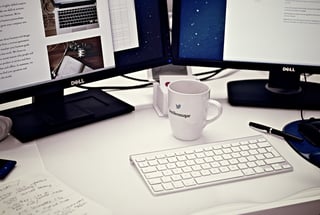 The importance of security systems for offices can be underestimated, as a lot of people don't see them as a target, but an alarming amount of businesses are at risk with increased criminal activity in offices.
Regardless of your business type, office security is vital - your company is vulnerable on numerous fronts, from small businesses, to accounting firms, to medical offices.
In 2018, it's time to review your office security and up-date your systems. Here are some considerations to think about.
Integrated Security System

It's fair to assume that most offices have unique needs, so creating an Integrated Security System, combining the elements your office requires, is increasingly important. When you're considering implementing a more comprehensive system, it can be to your advantage to choose a provider that offers all the functionality you need. Sonitrol offers a large range of different options and variations, from SonaVision, to Access Control Management to Audio Intrusion Detection.


Pick the Right Staff

Hiring the right staff for your office is important, not just on a personal or professional level, but also on a security level. Depending on your business, it may be necessary to implement a screening policy in your HR efforts, which includes both reference checks and criminal record checks.
Training

Design and enforce an in-depth training program about workplace safety and security, including how to properly lock up documents, protect passwords and secure the building. Also train your staff on policies about employee theft and confidentiality agreements.

Use a fire and security rated safe


The arguable center of your business security is protecting financial information, tangible assets or cash, you want to make sure your safe is up to your insurer's requirements. Your office will want to limit access to the combination and change it frequently.
Secure Desk Space

Offices tend to overlook some common areas, for example all paperwork should be locked away and any paperwork that is pending shredding should also be locked away. In addition, your office should disconnect and remove computers that aren't being used.
Printer Protection


A lot of printers have internal memories, so the potential of hacked or stolen documents can increase. Make sure your printer is kept in a secure location, and any additional copies of documents are locked away or placed in a locked shredding box.
Integrated Security Solutions For Offices


We're proud to serve small and large businesses of all types. Our sales, installation, service, and dependability all combine to provide you with the best long term office security solutions available.
We have served professional offices for more than 50 years and we have a program specifically tailored to meet the unique needs of business offices.
We implement technology and services that are not available anywhere else, built around our proprietary verified audio and video detection process and backed by a team of installation, service and monitoring professionals.
Sonitrol Western Canada offers strong local support, regionalized management teams (Vancouver, Edmonton and Calgary), knowledge and resources to get the job done right.
Sonitrol is the third largest commercial security provider in North America — and the verified leader in electronic security.