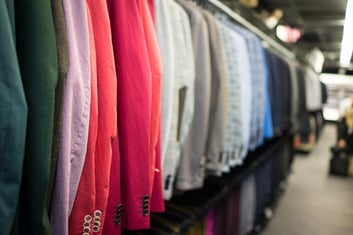 Inventory shrinkage is a huge problem for retailers. In fact, Canadian retailers lose about $4 billion a year to theft, errors and damage. Retailers are constantly looking for ways to reduce their losses - from eliminating shoplifting, to reducing internal errors in shipping and accounting.
Sometimes the risk of inventory loss can outweigh a retailer's resources for managing it.
That's where we can help. I'd like to share with you 5 tips that will help you better manage your inventory and prevent loss.
1. Control Access to Your Inventory System
It's not difficult to change a couple numbers in the inventory system so that nobody even realizes product has gone missing. That's why it's critical that you are selective in choosing which employees have access to the inventory systems, and their level of access.
You will want to ensure that each employee is trustworthy and properly trained to use the system, to eliminate data entry errors. It is also important that each employee has their own password and does not share it.
Doing so will help reduce the chances of false entry and improve your audit process in the case of an inaccuracy.
2. Communicate Policies
It's not enough to have policies in place, you have to communicate them effectively and enforce them if necessary. Your retail space should have a policy for managing employee purchases and returns, authorizing customer discounts, accessing valuable inventory, restocking products, handling damaged or returned products, and ensuring data entry is accurate, as well as consequences for not following policies.
Once these policies or procedures are put into place, you want to be sure that each employee fully understands them, and that your whole team is working together to prevent loss, by having frequent meetings and good communications.
3. Minimize Internal Theft
Employee theft is a growing problem in the retail industry. Statistics have shown a dramatic increase in theft committed by employees according to Retail Council of Canada and PricewaterhouseCoopers LLP.
While business owners don't want to suspect their employees are stealing from them, having good processes in place to help prevent employee theft is necessary.
When looking into hiring new employees, be sure to take the necessary steps to screen them properly. Background and criminal checks, drug screening, and references are important to making sure you have the right people working for you.
For more ideas, read our blog about Reducing Internal Employee Theft in Retail.
4. Monitor Valuable Goods More Closely
Managed access to valuable goods is important to preventing loss. Sonitrol access management system is integrated with our Sonitrol intrusion detection system so different employees can have different access levels.
Employees who are authorized to enter certain secure areas, such as the warehouse, back office, or caged high-value inventory items, will be allowed access. Employees who are not authorized to open the store, or access secure areas, will not be allowed to do so when the security system is armed.
5. Use A Sonitrol Verified Security System
Install an integrated Sonitrol Verified CCTV Security System to monitor key internal processes such as cash transactions and receiving/shipping. Employees are MUCH less likely to steal when they know they are being monitored. And if there is a theft, our security specialists will respond in real-time to the authorities, and you will have a record of it.
With early detection, verification, comprehensive CCTV coverage, access control – Sonitrol makes it easy for you to meet all of your security and safety needs. We also back every security system with a commitment to service that includes:
Service Guarantee

Satisfaction Guarantee

False Alarm Guarantee

Performance Warranty

Intelligent Security
6. Use Sonitrol Analytics
Cash registers are a vulnerable area for any business. Not only should you be concerned about short sales and missing cash, you also need to watch your electronic systems for questionable refunds and voids.
Sonitrol Analytics allows our CCTV systems to monitor your point of sale registers for voids, returns, etc. so that you are always aware of what is happening and can quickly look into anything that seems suspicious.
Download our free eBook 30 Smart Tips for Retail Security for more way to keep your retail store secure and protected against a variety of threats.