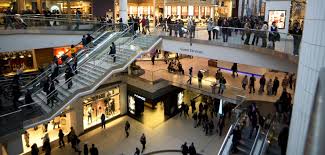 Back in November, just before consumers packed the malls and small neighbourhood shops, Crime Stoppers ran a campaign to make people more aware of retail crime.
Crime Stoppers purchased radio ads, distributed flyers, and promoted a slick interactive website - www.ItCostsUsAll.com where members of the public could participate in an onine poll to vote for stiffer penalties for retail theft.
Surprising Statistics From Crime Stoppers About Retail Crimes In Canada
1. Organized retail theft costs Canadians $4 Billion a year - The cost of these retail crimes is equal to an annual tax of $412.83 per household.
2. It's not just big retail stores that are affected, 87.5% of Independently owned retail stores in Canada report being victim of retail crime.
3. A staggering 2 out of every 5 crimes involve some form of violence.
4. Money raised from the sale of stolen items fund other criminal activities including gangs, drugs and guns.
5. Retail theft is a high profit - low penalty crime which is why it is so widespread and this why the penalties for retail crime need to change.
Retailers Need To Pay Attention To Their Alarm Systems
Apart from making the public more aware and paying attention to retail crime during the busiest shopping season of the year, there was no mention of the security role of the retailers themselves. The campaign didn't go any further to recommend how retail store owners can help stop retail crime in their locations.
While big public relations campaigns like this one from Crime Stoppers are good for raising public awareness, it's the retail store owners and managers who have to combat the retail crime problem - and they need to know what to look for in purchasing the right retail alarm and retail security system.
Therefore we're stepping up to the plate to help educate retail business owners on which security systems work best and why it's important to protect their assets and employees with retail alarms.
This is the third blog I've written in my retail security series. If you want to reference my previous blogs here they are once again:
Consider for a moment the Crime Stopper statistic that 2 out of 5 retail crimes involve some form of violence. Retail security is not just about protecting inventory shrinkage - it's more about protecting staff, employees and customers. Retailers of all sizes have an enormous responsibility to their staff to keep their environment crime free and safe.
I think what bothers me most, after the trauma inflicted on workers during a robbery, is that the money gained from selling stolen goods ends up back on the street funding other gun, gang and drug crimes plaguing communities everywhere.
I highly recommend all retail business owners and managers take the time to learn about retail alarms and security systems. Our website contains useful information about retail security and the differences between conventional off-the-shelf CCTV systems, and integrated verified security systems.
If you've been robbed before I know you'll never want to go through that again. If you've never been held-up, or had your store broken into, or you've never had inventory mysteriously disappear, given the statistics, you've been lucky, and luck unfortunately does run out.
Protect Your Store With A Retail Security System That Works
The bottom line is that retail stores of all sizes need a CCTV camera system with a fully integrated verified alarm system, that can monitor all aspects of the store, with complete audio and video surveillance, door alarms and panic buttons.
Retail stores that are very vulnerable to theft, and especially armed robbery, must invest in improving their security systems. Many just have cheap CCTV systems bought from conventional alarm companies with no verified security features. Retailers cannot put the lives of their store employees on the line.
To solve this problem and to help stop rampant crime in our neighbourhoods and cities, I recommend adding SonaVision monitoring to your existing CCTV system. On activation Sonitrol staff will be able to see your robbery live and advise the Police what is happening in real-time. More importantly, armed robbers know who Sonitrol is; they know about our relationship with Police and quick the Police response Sonitrol alarms get ... Therefore professional armed robbers stay away from Sonitrol protected retailersas they know they will get caught!
You wouldn't think that working in retail would bring this kind of danger - but unfortunately, armed robbery and theft can happen at anytime, anywhere. Some types of retail locations like jewellery stores, pharmacies, medical marijuana stores, legal marijuana farms and gun stores are higher risk, but any retail store can be robbed and any employee victimized.
If you're concerned about robbery in your retail business, or you have other store security issues, like shoplifting call us as we can help. We specialize in retail burglar alarms. We'll provide you with an evaluation of your premises, and we'll help you take the first step in making sure you have the RIGHT security system installed to protect your employees.
About Sonitrol Western Canada:
We're so confident in our technology and responsive service, that no one else in the industry can match our guarantee. Our unique verified audio and video business security solutions enable our operators to hear and see what is happening in your business before the criminals gain entry!! We verify the actual source of the alarm, and we get the police to attend the scene immediately. FOR A FREE RETAIL SECURITY AUDIT, click here, or call 1-866-766-4876.
Sonitrol Western Canada, with its Verified Electronic Security Solutions, is committed to providing customers with the most comprehensive security protection. Cooperation in the elimination of false alarms is not only beneficial to the system's user, but results in better protection of the entire community by allowing law enforcement to use their resources as efficiently as possible.