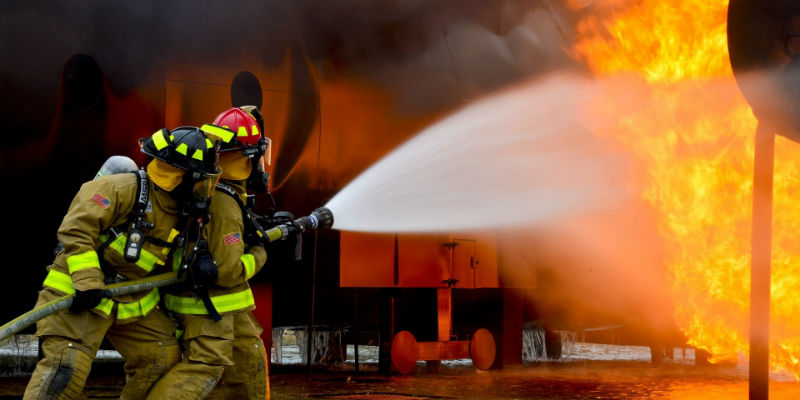 Businesses in Western Canada are subject to a number of dangers from break-ins, theft, vandalism and property damage, and that's why a security solution is essential for the success of your company.
Another major vulnerability for your company is fire, which can cause extreme damage in a very short period of time. In fact, according to the Occupation Health and Safety Administration, fire and explosions result in more than $2.3 billion in damage every year.
Preventative measures can be taken to avoid fire, such as:
Keeping your work area free of paper waste.
Inspecting electrical cords regularly and replacing damaged cords.
Not overloading circuits.
Turning off appliances when not in use.
Leaving space around heaters and other appliances so that they can properly ventilate.
Minimizing arson risks by locking doors, installing security systems, keeping outside areas free of combustibles.
Properly store combustible materials and cleaning products.
Ensuring boxes and materials aren't stored in stairwells where they can be both a fire and safety hazard.
Smoking outside of the building in designated areas with appropriate disposal units for butts and ashes.
Maintaining equipment to avoid accidental fire.
Implementing spill control procedures for hazardous waste spills.
Unfortunately, however, no matter how many preventative steps you take, there is no sure way to guarantee your business is safe from fire.
That is why, to prevent loss in case of fire, you need to ensure you have systems in place for the early detection and verification of fire as well as quick response of emergency services.
Verified fire alarm monitoring is essential
With a Sonitrol Fire Detection System, you can feel confident that these needs are met, and your organization is protected.
Sonitrol Western Canada has extensive experience with the installation and maintenance of fire protection systems that meet a wide range of businesses needs across Western Canada. Our solutions include smoke and heat detection, water flow and sprinkler monitoring, temperature monitoring, elevator recall, a voice evacuation system and duct detection.
Furthermore, our fire panels are UL/ULC listed and NFPA and ADA approved having been designed by our National Institute for Certification of Engineering Technologies (NICET) certified engineering group to National Fire Protection Association (NFPA) and the Americans with Disabilities Act (ADA) specifications.
Since our systems are monitored 24/7 by live operators at our central monitoring station, who will verify the fire before calling emergency services, you can feel rest assured that firefighters will be dispatched promptly in the event of a fire. Any issues will be addressed and resolved as quickly as possible.
So, whether you need ongoing service of a fire system already in place or are building, expanding or upgrading your workplace, Sonitrol Western Canada can provide all of your fire security needs.
We will help your business to minimize loss, prevent damage and keep you, your employees and your company assets safe.
For more information or to schedule a free security audit including fire detection systems, contact us today.