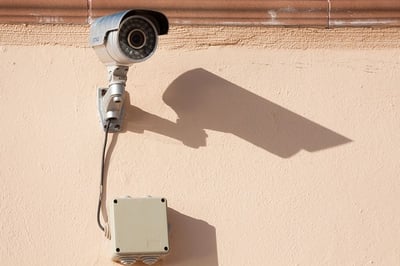 Property crime is one of the top policing priorities for the RCMP. Last year, Surrey RCMP reported over 24,000 property crimes, and over 700 business break and enters. Across Canada, these statistics are typical for urban neighbours where commercial crimes are typically an issue.
With numbers like these, it's clear that security should be front and centre with business owners.
Whether you're running a small retail store, or manage a construction company with millions of dollars in construction equipment, you need to be confident that your property is well protected, your business assets secure, and your employees are safe.
To protect your business, just installing a conventional CCTV camera is not good enough. A CCTV camera on its own is simply a recording device and may be useful a day later with a recording of the crime that has already taken place, but the criminal has long gone, and the damage to your business is done.
Sonavision Monitored CCTV, video-based security is useful in protecting your property if someone is observing a potential crime in progress - in real-time, where the monitoring station has been alerted to possible criminal activity, and they can verify that a crime is in progress. With verified security systems, the police are notified immediately and they are quickly dispatched to your business, often catching the criminal(s) (we've caught 176,000 so far!). Check out our latest videos of police actually arriving at break-ins and making arrests!
To properly protect your facility, storage compound, or commercial business from property crime and break-ins, you'll probably need an integrated and verified security system to address perimeter security, access control, audio and CCTV video monitoring - all professionally monitored 24/7 by Sonitrol's monitoring centre.
Most business owners need help evaluating security risks. Shopping around for the right security company is obviously key, but we can help you evaluate what you need. It's worthwhile to have a security professional come to your business and do a walk-around, to find specific spaces and areas that need to improved security and to identify any critical security risks.
Sonitrol offers complimentary security audits specific to your business.
One of our security professionals will go to your place of business and begin their security audit by analyzing and sharing with you free advice on how to properly protect your company assets and employees.
The best part of this security audit is that there is no obligation, no pressure into making a purchase, just knowledgeable commercial security advice.
Running a business is challenging and full of responsibilities, and you want to secure it properly. A loss of inventory or damage to commercial assets can be a major financial setback.
Sonitrol's security systems are not conventional, they are exceptional.
Why? Because, Sonitrol covers all the bases with a verified and fully integrated security system, from access control, fire alarms, and audio / video monitoring. You don't need to piece together the technology yourself. We'll recommend and configure a system that's right for your business.
But the key difference between us and other conventional security systems on the market is that our alarms are verified and monitored by security specialists 24x7. Minimizing false alarms helps maximize the efficiency of local law enforcement, giving Sonitrol security systems a reputation second to none with the police. Every alarm system is closely monitored, either through audio and/or video, allowing the Sonitrol monitoring operators to verify the intrusion in real time and notify the authorities of a crime in progress.
We've been in business for over 50 years, with over 176,000 criminals caught since 1977. Sonitrol is known as the secure path to choose.
For more information about Sonitrol's free security audit, please contact us. It's our goal to make sure that your business is completely protected from intruders, thieves, and vandals.
About Sonitrol Western Canada
We're so confident in our technology and responsive service, that no one else in the industry can match our guarantee. Our unique verified audio and CCTV video business security solutions enable our operators to hear and see what is happening in your business before the criminals gain entry!! We verify the actual source of the alarm, and we get the police to attend the scene immediately. We are a security company with over 150 offices across North America serving clients across Western Canada in British Columbia,Alberta, Saskatchewan, Victoria, Vancouver, Edmonton, Calgary, Saskatoon.
Sonitrol Western Canada, with its Verified Electronic Security Systems, is committed to providing customers with the most comprehensive security protection. Cooperation in the elimination of false alarms is not only beneficial to the system's user but results in better protection of the entire community by allowing law enforcement to use their resources as efficiently as possible.