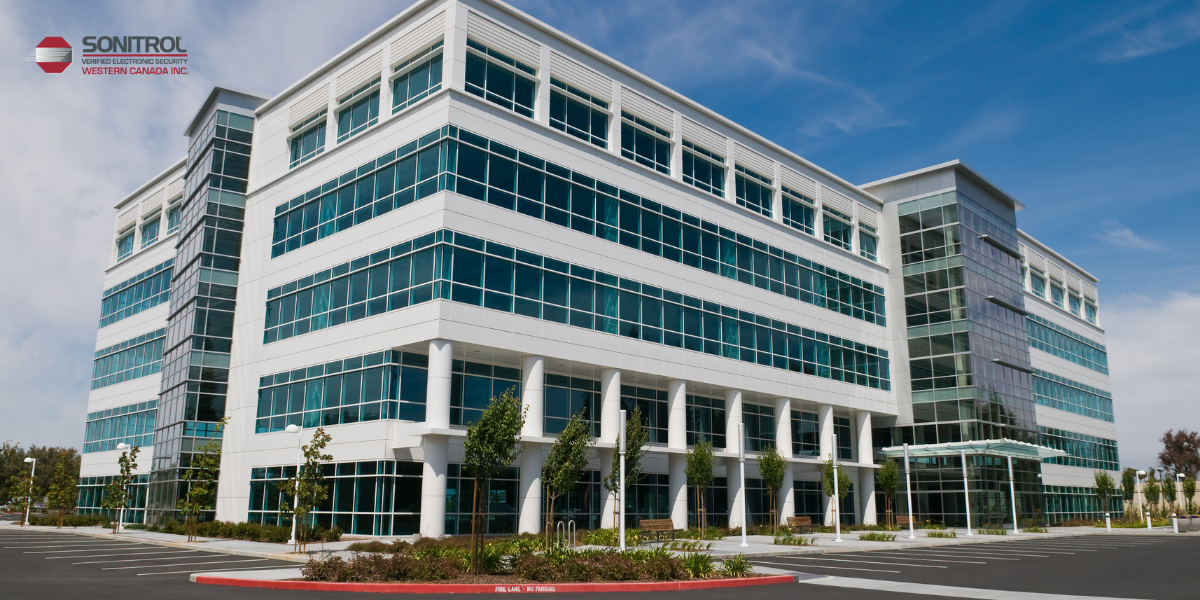 When it comes to security, property managers are in a unique position. They're not only responsible for protecting their property and staff, but also that of the businesses that rent from them and the customers who frequent those businesses.
That can make security solutions difficult, especially in multi-unit offices. Luckily there are steps that you can take to protect your assets, tenants and their customers.
Sonitrol Western Canada has listed four tips for property managers to enhance the security of their premises.
1 - Look for security vulnerabilities on the exterior of your building
When it comes to security vulnerabilities the first thing you want to look at is your building's location and its surroundings. Take a look around your entire property to determine whether there are easy ways for criminals to enter without being seen. These could be areas that aren't properly lit, surrounded by landscaping elements or blocked from street view on all sides.
You also want to consider crime rates in your area and whether your tenants or other local businesses are highly attractive to criminals and vandals.
2 - Consider updating your security system
If you use surveillance systems, you want to be sure that they are covering every inch of your property and don't have blind spots that could be attractive to criminals. You also want to ensure that you are using a modern solution that increases your chance of catching criminals if they do try and target your property.
The best option is a verified security alarm. Verified security is monitored 24/7. This means that criminal activity can be confirmed, limiting false alarms and increasing apprehensions.
3 - Install access control
When you have multiple tenants, vendors and customers coming in and out of your building, monitored access control can be a huge advantage. It lets you control who can access different parts of the building and helps ensure everything is locked up when it's supposed to be.
You can give your tenant's access to their own offices, limit access to information and equipment storage to your own team members and you can reduce foot traffic in areas that don't require customer access.
4 - Choose a trusted security vendor
Securing your property starts with a vendor you can trust. With over 50 years of experience and more than 175,000 criminals apprehended, Sonitrol is just the company you're looking for.
We have a long-term partnership with law enforcement, an incredibly low false alarm rate (3 percent, compared to 98 percent with other systems) and, on average, police respond to our alarms in just 3.5 minutes.
And because of our reputation, professional criminals steer clear of buildings carrying the Sonitrol brand. That means you can expect fewer crimes and, if there is a crime, a greater rate of apprehension.
For more information on our state of the art verified security and access management solutions, or to get a free security assessment, contact our team today.