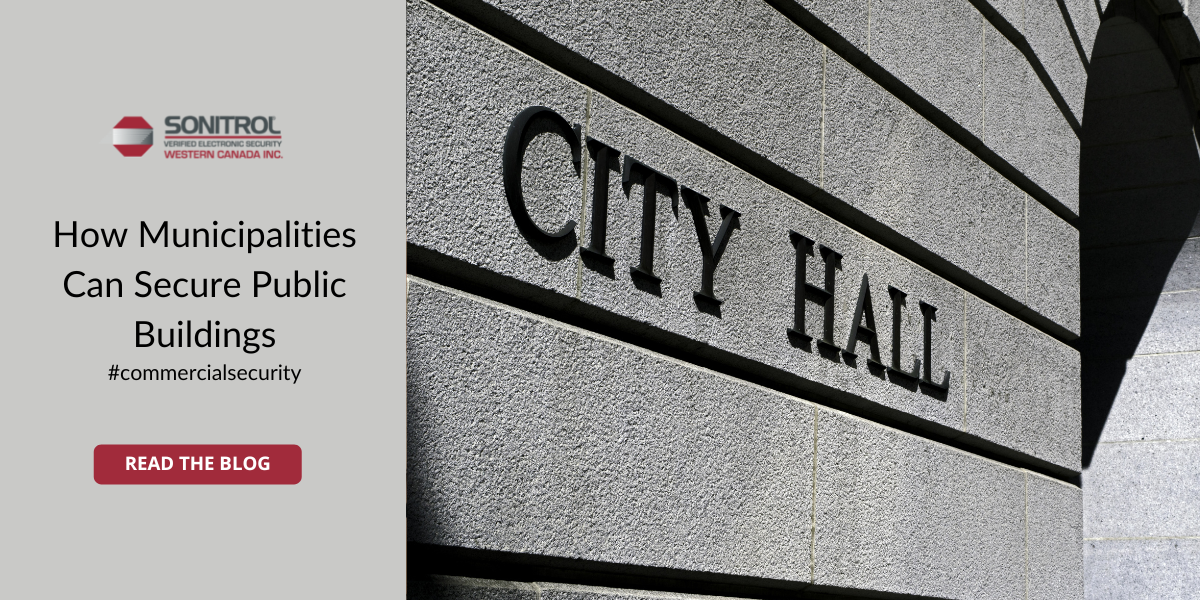 City owned buildings that are open to the public have a high risk of certain types of crime including vandalism. Protecting government buildings is a priority for a number of reasons, and this includes protecting the public, information and staff, as well as ensuring continuity of government services.
So what are some of the important security considerations to protect your public building?
#1 - Control Entry
Because people are constantly coming and going, it can be hard to spot a suspicious person who is there to steal, vandalize, commit arson or another crime. As such, more thought needs to go into how the public enter the building and where they can go.
Vetting the public through a triage or assistant can help reduce unique challenges associated with public access. Layer this with controlled access and you can easily limit the flow of people to certain areas of your buildings.
Access control uses electronic locks, access cards, badges, fobs and top of the line readers, to track and restrict who goes where and when. It also gives you more oversight into your facility's activity.
As an added bonus, access can be easily updated, allowing you to temporarily allow vendors on-site and quickly shut down access to disgruntled employees or visitors.
#2 - Secure Data
Your building is full of important data related to citizens, buildings and other areas of your city. While there are services that people need access to within your facility, that doesn't mean it should be easy to get into every space.
Ensure rooms that hold servers and paper documents have been properly secured with controlled access. Minimize the number of staff members who have access to those who really need it and ensure any visitor is either accompanied or has the information brought to them in a private and secure room.
#3 - Increase Security After Hours
It is important to have effective systems in place to protect your building outside of operating hours. This includes extending controlled access to main entries so that the building can be secured and closed to the public overnight. You'll also want to install a fully monitored security system like Sonavision to ensure criminals are caught if a crime does occur after hours.
#4 - Install Panic Buttons
In the case of an emergency during operating hours or any time staff members are working late, panic buttons will allow your team to instantly alert a security monitoring company to help protect your team from harm.
Panic buttons should be strategically placed throughout your organization in hidden places that are easily reached by your employees. While the best places vary from one business to another, they are generally most effective in areas that are considered the front lines of your business - such as customer service or reception.
#5 - Upgrade Your Surveillance System
Many public buildings use conventional CCTV cameras. While some of these cameras are monitored by on-site security, most of these systems don't have professional oversight and are simply used to record what is happening.
Verified alarms, on the other hand, use remote security monitoring to stop criminals from getting away with damaging crimes.
Once an alarm is activated via audio detection or heat/motion sensors, a live stream is broadcast to a remote monitoring station where a security professional is then able to either verify that the alarm is indeed an intrusion or if it's a false alarm.
If the alarm is false, security professionals will not call the police. If it is more serious than that, the security professional will verify the intrusion and notify both the police and the manager of your building immediately.
The security professional will then provide real-time information to the police, minimizing response times and increasing the rate of apprehension to better protect your employees and property.
For more information on how Sonitrol Western Canada can help protect public buildings from crime with a fully integrated security system, contact us today.