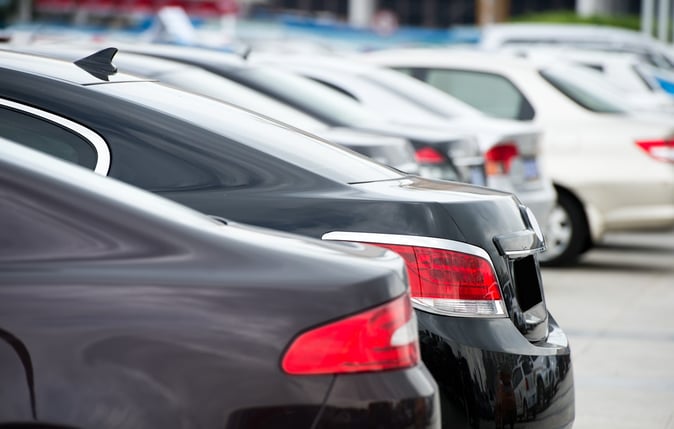 It seems unlikely that someone could simply drive away with a stolen car (or three) from a dealership, without alerting bystanders, but, just this July, three vehicles were stolen from a Honda dealership in Winnipeg and, in August, two vehicles, waiting for service, were taken from a Dodge dealership in Kelowna.
While local authorities do all that they can to locate the stolen vehicles, sometimes they are unable to do so, and other times the vehicles are located but they have been substantially damaged.
And it isn't just automotive dealerships – boats, RVs and equipment dealerships are just as vulnerable to a multitude of crimes including theft of inventory as well as by stripping parts such as catalytic converters, air bags, navigation systems, tires and rims right from your vehicles.
Your dealership is full of valuable assets and you need to protect it.
Mange Access:
Our first recommendation is to implement a keyless entry system.
Ensuring that expensive parts, specialty tools and keys are secured behind a keyless control access system not only keeps them protected, it allows you to control and manage accessibility by employees.
It is also incredibly easy to activate new accounts or deactivate lost and stolen cards, ensuring you further protect your dealership.
Be Strategic When Parking Cars:
Surrounding valuable cars by other vehicles can create an obstacle that makes stealing high-value items more difficult.
It is also a good idea to park cars with the emergency brake on and the wheels turned sharply to the side as this will make it more difficult to tow the vehicles away or remove the tires.
If you have vehicles or equipment that sit high off the ground, park them in well-lit areas; as it is easier for people to simply slide under these vehicles and remove parts, so light will help ward off that.
Monitor Your Dealership:
Possibly the most important step in protecting your dealership is a verified surveillance system.
Our Sonitrol Dealership Security Solution doesn't just record break-ins and theft. Because we are constantly monitoring your security videos, we immediately alert the police so they can respond quickly to catch the intruders! A conventional system won't do that – that's why you want to choose Sonitrol.
The Sonitrol Dealership Security Solution consists of a combination of fenced compound security, using SonaVision verified video surveillance, and active audio detection to listen out for any attempted building intrusion.
Our unique SonaVision verified video, monitors the perimeter and interior of the dealership and is activated by highly sensitive audio, motion and heat controls to detect thieves and vandals. This system is vastly superior to standard CCTV solutions - that simply records a break-in with zero opportunity to stop the thieves.
Our verified dealership security solution is also better than having expensive security guards, who can sleep through the night or even leave the site. We've developed a programmable video guard tour, that virtually patrols your facility through a series of real-time sweeping checks by our remote monitoring centre.
Many Sonitrol clients want to see what's going on. We provide video access for your own supervision (WCB compliant), so you can record shipments and deliveries and watch job progress and day-to-day work.
Whether you have a single dealership or a regional chain, our modular, scalable designs make it easy to protect your business today and meet your needs as your business grows.
Auto theft is a nightmare for Dealerships – stolen inventory not only hits the books but can be a huge annoyance if the vehicle was pre-ordered for a customer. Don't lose sleep over it!
To find out more about how Sonitrol can protect your Dealership, contact us today and we'll go into detail on how our system works and what would be the best system for your location.
About Sonitrol Western Canada
Sonitrol Western Canada, with its Verified Electronic Security Systems, is committed to providing customers with the most comprehensive security protection. Cooperation in the elimination of false alarms is not only beneficial to the system's user but results in better protection of the entire community by allowing law enforcement to use their resources as efficiently as possible.