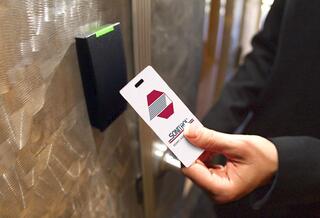 When an employee misplaces their key to your business, it should never be taken lightly. A lost key not only puts your business at greater risk for trespassing, vandalism, and theft, it can also put your employees at risk if they are at the office when a criminal gains access.
That's why it's critical that misplaced keys are reported immediately and that access to the affected areas be changed - the longer you wait, the longer you risk that someone will use the key.
This can be a time-consuming, expensive and disruptive task. Not only would you have to ensure the locks are changed or re-keyed, you would also have to resupply every employee with a new key.
The good news is that technology is always advancing and, today, you can implement managed access control, or keyless entry, to streamline your security processes and better protect your business.

And this isn't just for large commercial facilities, access control is affordable for small and medium sized businesses.
Here are the 7 ways a keyless access control system is a better option for your business.
1. It Can Be Easily De-Activated
You can't de-activate a key. If someone loses it, you must replace the lock and all of the keys.
With a keyless access control system, if someone does lose their card, it can instantly be deactivated so that no one has the opportunity to gain access to your company, without consent. This not only saves you from having to replace each employee's key, it also gives you the option to re-activate the key if the employee finds it.
2. Employees Will Report Lost Cards Sooner
The reality is that some employees will delay telling their employers that they have lost their keys. They will want to look everywhere before saying anything, as they know that losing a key can lead to increased expenses and disruption.
With keyless access control systems, it is so easy to activate and de-activate cards that employees can play it safe without repercussions to your business. Even if they think their card is at home, they will be more likely to say something, just in case they are wrong.
3. It Is Easy to Create New Cards
When you hire a new employee, you would traditionally have to get a new key cut. Another option would be to keep precut keys in your office, however, this makes it easier for someone to take a key from your inventory.
With a keyless access control system, you can quickly create a new entry card for that new hire. Cards should be controlled closely, but they are not difficult to program or de-program, making them very convenient to administer. And, if someone did take an unused card, it's useless to them, unless they can access your programming system.
4. You Can Customize Your Access Cards
There isn't much customization with office keys unless you want to opt for a key with a design on it.
When using a keyless access control system, you have the option to use generic key cards, or you can personalize entry cards as photo ID badges or key fobs. This minimizes the number of items that your employee has to keep track of, reducing the likelihood of them misplacing something. You could also opt for custom cards with return info, allowing strangers to easily return the card without compromising the security of the building.
5. You Can Track Usage
Keys are not traceable.
Keyless access cards or fobs have a unique identifier. This means you can tell whose key card was used each time someone gains access to the building.
6. You Can Activate Security Systems Quickly and Simply
Unlike traditional keys, key cards can be integrated into your security system so that a quick swipe is all you need to activate all the security features of the building.
7. You Will Save Time And Money
Replacing a traditional lock and key system is expensive and time-consuming. It's also disruptive to your employees who now have to exchange their old keys for new ones.
With keyless entry, you will only have to replace a single card and the only affected employees are your access control admin and the employee who has lost their card. This saves time and headaches for everyone and allows you to maintain productivity.
Why Sonitrol?
With the Sonitrol Managed Access Control system, you easily track and limit entry to buildings and sensitive areas of your business, providing protection for valuable information and data, as well as the safest work environment possible for your employees.
Unlike other security systems, Sonitrol's Access Control is fully-integrated with all our Security Technologies and our Central Monitoring Station manages the integrated access control, maximizing your security. The Sonitrol Managed Access Control system also offers many other benefits:
Decreases your liability and risk

Controls building entry and exit

Reduces user/employee-caused false alarms
Limits access to sensitive areas
Provides detailed entry and exit reports
Controls HVAC, parking lot lights
Locks doors on a programmed schedule
Reduces the need for onsite security personnel
Eliminates the cost of re-keying or changing locks
Accommodates as many different schedules as you need
Allows for temporary access by visitors, consultants, and others
About Sonitrol Western Canada
We're so confident in our technology and responsive service, that no one else in the industry can match our guarantee. Our unique verified audio and CCTV video business security solutions enable our operators to hear and see what is happening in your business before the criminals gain entry!! We verify the actual source of the alarm, and we get the police to attend the scene immediately. We are a security company with over 150 offices across North America serving clients across Western Canada, including British Columbia, Alberta, Saskatchewan, Victoria, Vancouver, Edmonton, Calgary, Saskatoon.
Sonitrol Western Canada, with its Verified Electronic Security Systems, is committed to providing customers with the most comprehensive security protection. Cooperation in the elimination of false alarms is not only beneficial to the system's user but results in better protection of the entire community by allowing law enforcement to use their resources as efficiently as possible.