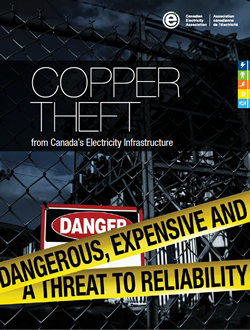 I've been blogging a lot recently about the big problem of copper theft and how destructive it is, not just to large electrical utilities, but also to construction sites, small developers and communications companies.
The electrical utilities sector in Canada estimates the cost of copper theft at $40 million a year, and TELUS has estimated that the business cost of copper wire theft at $20 million in BC and Alberta alone!
As I reported in my last blog - In The News: Copper Theft Is A Major Problem Across Canada - If you keep your eye on this topic in the media, you'll soon see the frequency of copper theft crimes across Canada.
The copper theft problem is now more public. Organizations are speaking out and trying to bring awareness of the problem to all levels of government, and to members of the community.
But this is what caught my attention. Just this month, the Canadian Electrical Association published a policy paper called "Copper Theft from Canada's Electricity Infrastructure: Dangerous, Expensive and a Threat to Reliability". The report makes four strategic recommendations.
1) Develop a National Action Plan - bring municipal, provincial, and federal groups together to develop a coordinated approach.
2) Encourage coalitions between law enforcement, legal communities, security companies, and concerned citizens.
3) Improve legislation and regulations of scrap metal dealers.
4) Make amendments to the criminal code so that copper theives receive harsher penalties, more reflective of the danger and costs.
These are good recommendations and are all part of a cohesive solution to reduce copper theft, but if you're the owner of a construction company, or you're running a business where you have copper on site, you still need to protect your copper now.
Don't buy something off the shelf, like a CCTV camera system and expect it to do the job.
You need professional security advice from people who know about copper theft and how to make it secure. You need a construction site or compound security plan – that recommends what to install, where to install it, and what other security measures you need to take.
The Center for Problem-Orientated Policing (University of Albany, NY), has created a problem guide called "The Problem of Scrap Metal Theft". The document looks at stakeholders, criminal motivations, and practical "things you can do" actions.
Here are some of the actions they recommend – I believe this is the best way to prevent copper theft, to start managing the problem.
1.) Perform a threat risk analysis to identify vulnerabilities at your site.
2.) Conduct electronic surveillance of facilities in real time.
3.) Use remotely controlled alarm systems that communicate with security personnel.
4.) Improve lighting, intrusion alarms, security cameras, and signage.
5.) Secure equipment in properly contained areas.
It's not a coincidence that these 5 points are very similar to what we recommend.
We always start the security planning process off with a free security audit to find out where your site is vulnerable for theft and to identify high-risk areas.
We talk to you about your needs and construct a security plan for you going forward. Our SonaVision commercial security system provides you with remote controlled and verified video monitoring tied into our Central Monitoring Centre, where we employ security specialists to interpret what's happening on your construction site in real time. When we report a crime in progress to local authorities, you can count on a fast response from the police.
Verified electronic security systems work - hands down (or hands up, if you are on the other side of the law!).
If you'd like to speak with a Sonitrol security specialist about a free security assessment for your construction site, or place of business (retail, office, warehouse) just contact us now and we'll get back to you.
Copper theft is a complex problem that will involve changes to legislation and perhaps the criminal code - but there are things you can do to protect copper on your construction site now and make sure it doesn't happen to you.
Sonitrol Security Systems are definitely an important part of the copper theft solution. Here are some client testmonials to show it works:
"Copper theft is a very big problem for the construction industry and we are pleased to be able to give police the verified tools they require to be able to apprehend these thieves and make our community safer. - Jack Lai, Rize Alliance, Rolston" Sonitrol verified security system stops copper theft at Rize Alliance construction site

"On September 17th at 2:35am your operators detected a copper thief on our Surrey Memorial Hospital construction site. Surrey RCMP officers responded promptly and apprehended this thief before he could damage or steal anything. - Marc Vezina - Surreyritical Care, EillisDon" Copper theft stopped at Surrey Hospital Construction site with Sonitrol verified alarm, reports EllisDon